Brief Introduction
The machine comes standard with: quick-change coupling nut & sleeve, squaring arm with scale, electronic back gauge, gauging table with stops, punching base table, safety guards and more. With its multifunction, Q35Y series hydraulic ironworker is your first choice among the counterpart machine. Besides, all the components are of the highest quality in the matter of safety, function, capability and maintenance.
Our machine is designed via the most advanced technology and has the virtues of easy operation, low consumption and low maintenance cost. We also can provide customized solutions to better cater for customers' needs.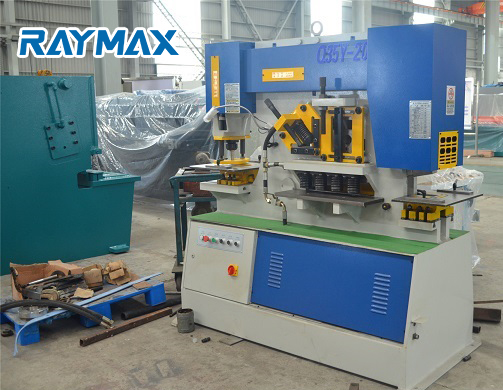 Optional tooling:
Automatic Holding System: The automatic holding system can be chosen to set up in angle steel shearing and plate shearing work position. Additionally, the holders will fix the position of work piece in order to save time and improve working efficiency.
Temperature cooling system: When the machine is working, you can read the temperature of oil through the monitoring screen. If the oil temperature goes higher than 55 degree which is the default configuration, the inside cooling system will run automatically to decrease oil temperature in order to protect hydraulic system.

Main standard properties components of Ironworker:
 All the electrical parts are IMPORT with CE certificate.
 Professionally engineered design frame structures.
 Steel welds with high precision strength and rigidity to eliminate vibrations.
 Ironworker steel frame Q235 = American standard steel A306 GR55.
 Five sets of punch and blades were installed on the machine.
 Timer relay by Japanese OMRON.
 All wiring terminal block by WEIDMULLER.
 Main Electrical component by Germany Schneider.
 Oil seals by Japanese, NOK.
 O-Ring and Valve by Taiwan for piston pump more durable.
 Hydraulic System by Japanese Yuken.
 Motor by Chinese Jiangsu Dazhong
 Hydraulic fuel tanks and ironworker frame built by our Factory.
 Dual independent hydraulic cylinder
 Dual Footswitch controlled work separately
 Easy Adjustable stroke control with ruler
 Indicator on both hydraulic cylinders
 Electric back gauge auto stop
 Moveable working light that can be placed at any desired position
 Hydraulic system with overload protection system
 Emergency safety stop switch
 Large punching table with ruler guide
 Larger notching table with Ruler guide
 Large flat shearing table with Ruler guide
 Most important easy maintenance