Q35 Series hydraulic combined punching and shearing machine can cut and punch all kinds of materials such as plate, square bar, angle, round bar, channel and so on. Our hydraulic ironworker machine has been designed and builds to the highest quality standards in the industry. The profitable machines will server any grueling fabrication shop for decades to come.
Classification
The combined punching and shearing machine is a machine tool that integrates multiple functions such as metal shearing, punching, plate shearing, and bending. It has the advantages of simple operation, low energy consumption, and low maintenance cost. It is a modern manufacturing industry (such as: Metallurgy, bridges, communications, electric power, military and other industries) metal processing equipment of choice.
Combined punching and shearing machines are divided into hydraulic ironworker machines and mechanical combined ironworker machines, of which hydraulic type is the most widely used. The combined punching and shearing machine is generally suitable for processing small workpieces, and can work in multiple stations at the same time. The left foot switch individually controls the punching station, and the right foot switch controls the operation of other jobs at the same.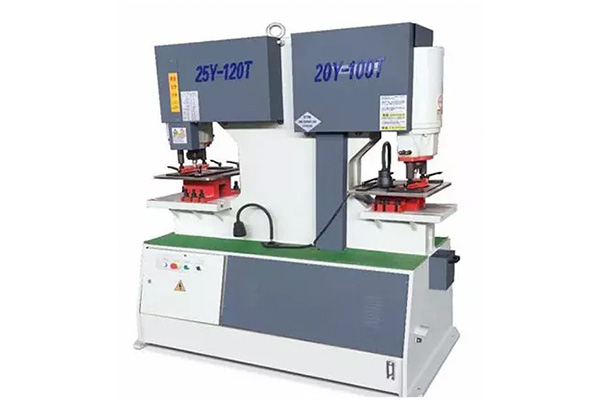 Use
1. The punching function is located at the left station of the combined punching and shearing machine and is controlled by the left foot switch. By changing different upper and lower molds, holes of different sizes and shapes can be punched. Each die has a certain life time, needs to be replaced after a service life of more than replace the mold. If the punching and shearing machine model is Q35Y-16, 20 is the maximum shearing thickness of 16mm.And Q35Y-20/25/30, the max punching thickness is 20mm/250mm/30mm.
2. Round steel square steel cutting and cutting channel steel share the same station, but only one of the two can be selected. If the round steel square steel cutting function is selected, the channel steel cutting function cannot be selected.
RAYMAX is the China top 10 hydraulic ironworker machine manufacturers, providing professional combined punching and shearing machine knowledge and high-quality hydraulic ironworker machine. If you have any needs, contact us now!