The metal brake bending machine has high labor productivity and high work accuracy for bending metal sheets. It uses simple molds to press metal sheets into desired geometric shapes and can be widely used in electrical appliances, electronics, metal structures, instruments, meters, household hardware, building decoration, and other industries.
The metal press brake machines are divided into manual bending machines, hydraulic press bending machines, and CNC sheet metal brakes. Manual bending machines are divided into mechanical manual bending machines and electric manual bending machines. According to the synchronization mode, hydraulic bending machines can be divided into torsion axis synchronization, machine-hydraulic synchronization, and electro-hydraulic synchronization. According to the movement mode, hydraulic bending machines can be divided into the up-moving types and down-moving types.
WC67Y hydraulic press brake
Main feature
The whole machine is in a sheet plate welded structure, with internal stress eliminated by vibration aging technology, high strength, and good rigidity of the machine.
A double hydraulic oil cylinder is applied for upper transmission, provided with a mechanical limit stopper and synchronous torsion bar, typical of stable and reliable operation, as well as high precision.
Electrical control and manual fine-tuning mode are adopted for a distance of rear stopper and stroke of gliding block and fitted with a digital display device, easy and quick in use.
The upper die is fitted with a deflection compensation device.
A safe fence and an electric interlocker have been designed for the WC67Y hydraulic press brake to ensure operation safety.
Worktable mechanical compensation or hydraulic compensation device is optional.
Details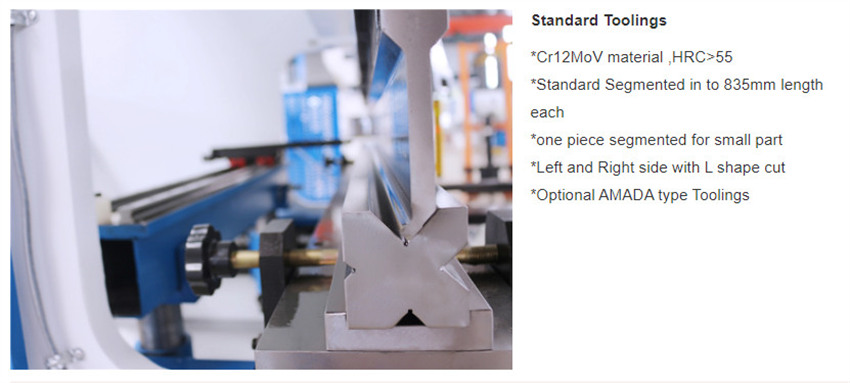 WC67K hydraulic simple press brake
Main feature
WC67Y machine model is adopted for mainframe, fitted with the digital display system.
The WC67K hydraulic simple press brake machine is provided a digital display for the positions of the rear stopper and gliding block, as well as a prompting function for a soft limit of X/Yshaft and one-way positioning clearance.
It is equipped with a standard single-axis backgauge system (-axis) and single-axis bending angle system (Y-axis). You can choose to add a V-axis compensation function and select the appropriate mold to easily bend the workpiece with complex shapes.
The optimal parameter ratio and optimal core configuration ensure stable performance and convenient operation.
The rear stopper and upper gliding block are both fitted with coders, for a more accurate display for positions of the rear stopper and upper gliding block in cooperation with the digital display system, thus to further increase the operating precision of this machine.
E21 Controller
1. Backgauge and block control
2. Control for general AC motors or frequency inverter
3. Intelligent positioning, Stock counter
4. Holding/decompression time setting
5. Program memory of up to 40 programs up to 25 steps per program
6. One side positioning, Retract function
7. One key backup/restore of parameters
8. mm / inch, Chinese / English
Details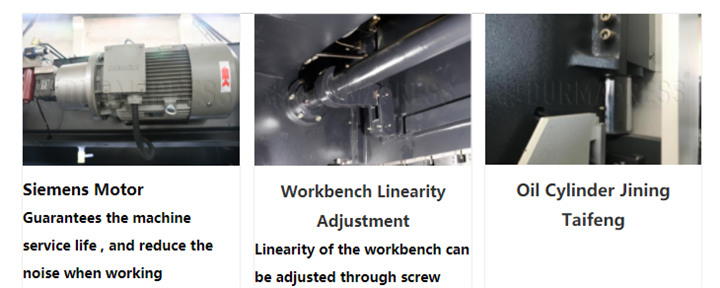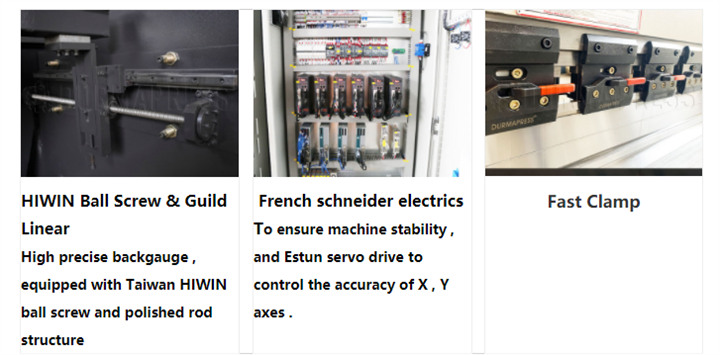 WC67K hydraulic torsion servo CNC press brake
Main feature
A special numeric-control system is fitted with the mainframe of the WC67K hydraulic torsion servo CNC press brake machine.
Multi-work-step programming function is able to achieve an automatic operation and continuous positioning of multi-step procedures, as well as an automatic precision adjustment for positions of rear stopper and gliding block.
The hydraulic system adopts an integrated control system, which reduces the installation of pipelines, eliminates oil leakage, ensures the working stability of machine tools, and makes the appearance scientific and beautiful.
The WC67K hydraulic CNC press brake is provided with a bend counting function, for a real-time display of processing quantity and power-failure memory of positions of stopper and gliding block, as well as procedures and parameters.
lmported ball bearing lead screw and linear guide rail are used for the rear stopper, to ensure the positioning precision of the rear stopper, for processing precision of the machine to be higher.
Hydraulic deflection automatic compensation mechanism, eliminate the impact of slider deformation on the quality of the workpiece, CNC system automatically adjusts the amount of compensation, easy and accurate operation.
Optional DA-41S, E300, MD320, MD330 and other CNC systems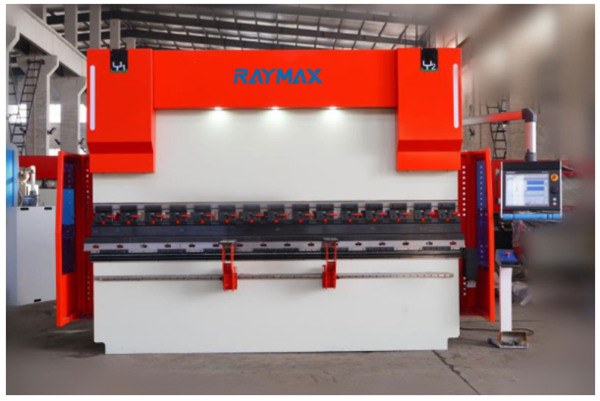 40 ton press brake
The 40-ton press brake is a small conventional hydraulic sheet metal press brake we built, bending length could be 2200mm and 2500mm, it is a small press brake for bending small thickness sheet metal. For standard 40ton hydraulic press brake, the operation is manual, and the standard machine can do basic works, such as the movement of back gauge, and do bending action.
Main feature
Hydraulic transmission ensures that no serious overload accidents will be caused due to changes in sheet thickness or improper selection of the "V"-shaped groove of the lower dies during work. In addition, the 40 ton press brake machine has the characteristics of stable operation, convenient operation, low noise, safety, and reliability.
There is a mechanical stop in the oil cylinder to ensure the repeat positioning accuracy of the slider to the bottom dead center to ensure the consistency of the bending angle during mass production.
The upper-moving bending machine is designed with two cylinders working at the same time, and the operation is balanced, convenient and safe. There is a pressure-holding delay function at the bottom dead center to ensure the accuracy of the workpiece. With the function of slow descent control, the operator can better control the workpiece.
The 40 ton press brake machine adopts hydraulic electric control, the stroke of the slider can be adjusted arbitrarily and has the action specifications such as inching, semi-automatic, and automatic. The inching specification can be easily tested and adjusted.
The adjustment of the back gauge is driven by a motor and driven by a screw rod. When pressing "+" and "-" to adjust, the baffle can be adjusted forward or backward (digital display size position). When the motor adjustment cannot reach the required adjustment value, the manual adjustment wheel can be rotated to manually fine-tune to ensure the required adjustment value.
Details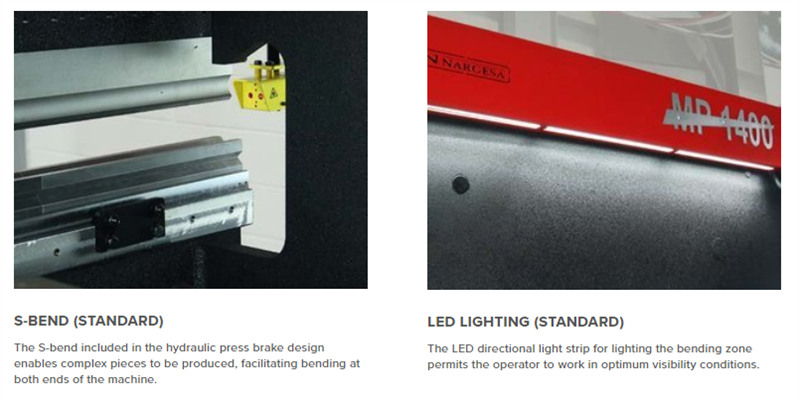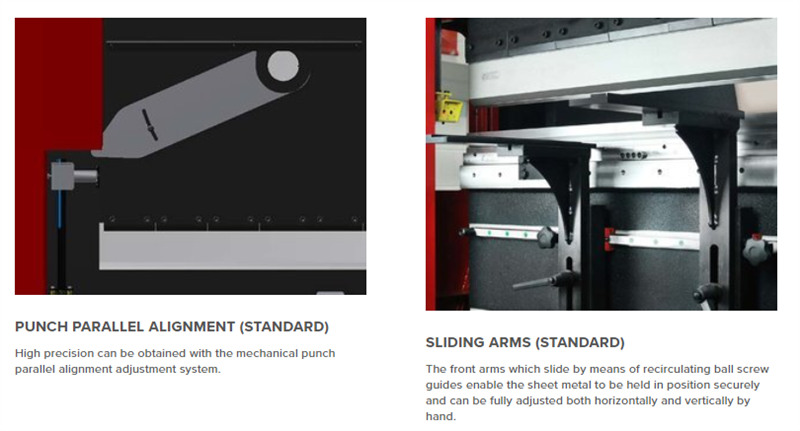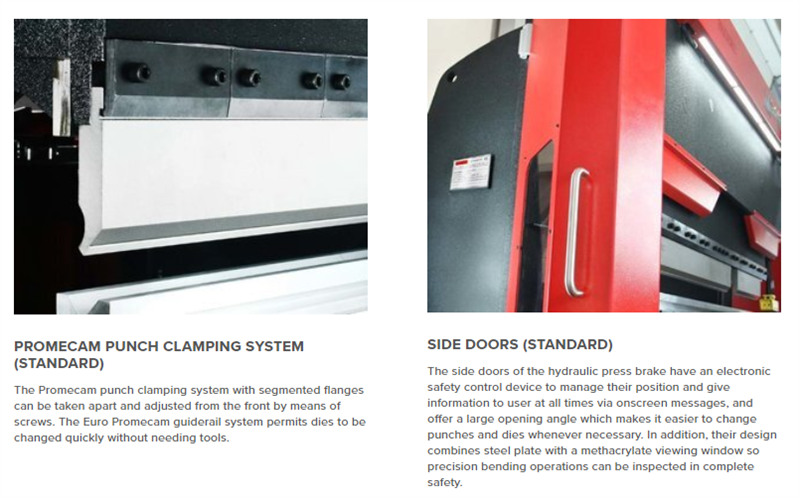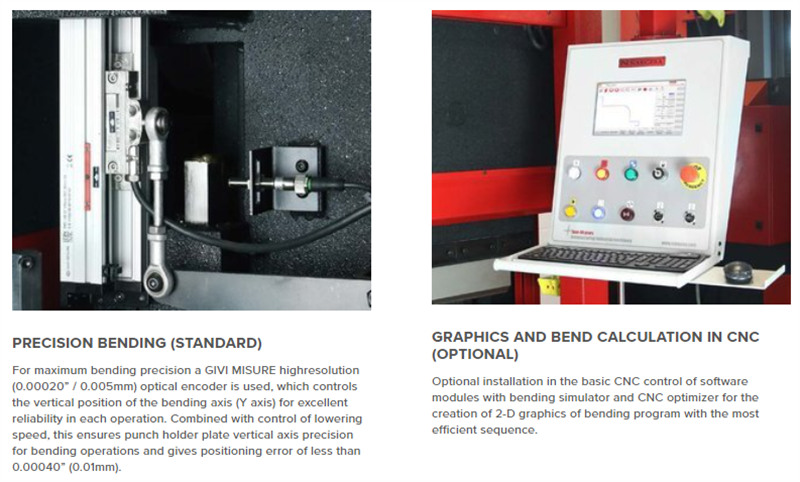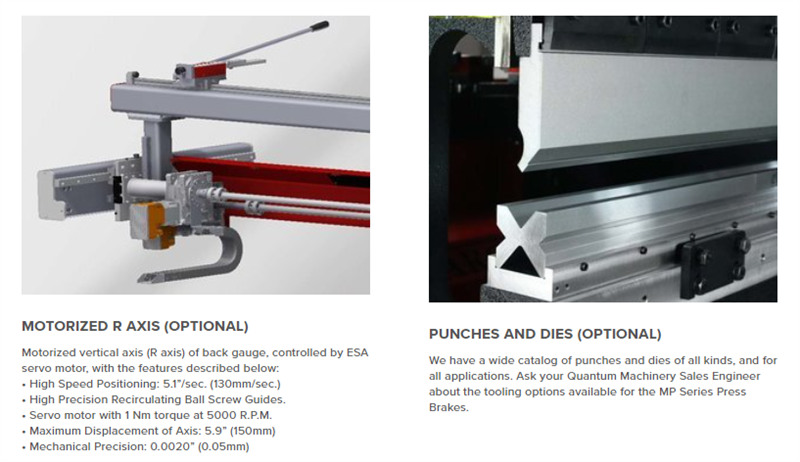 50 ton press brake
RAYMAX 50 ton press brake is the most compact powerful press brake in the industry. It features portability, versatility & 50 tons of power with maximum bending capabilities of up to 10 gauge material. The 50 ton hydraulic press brakes are perfect for most bending applications.
Main feature
The thickened worktable and the thickened slider make the whole machine have high rigidity, so the slider and worktable deform minimally during bending, and the workpiece has excellent straightness and angular consistency.
The hydraulic system of the 50-ton press brake adopts an integrated control system to reduce pipeline installation and adopts imported sealing rings to improve the working stability of the machine tool, and the appearance is beautiful and simple.
The main cylinder piston of the machine tool adopts aerospace technology-surface nickel-phosphorus treatment, and its hardness can reach above HRC60. The guide sleeve that moves relative to the piston adopts a zinc-based wear-resistant alloy with its own lubricity, which can keep the cylinder in good working condition for a long time.
The 50-ton bending machine adopts torsion axis synchronization and mechanical stop, which is reliable, economical, and high-precision.
The distance of the back gauge and the stroke of the upper slide is automatically adjusted by the CNC system, and can also be adjusted manually for easy operation.
The upper die is equipped with a winding compensation mechanism.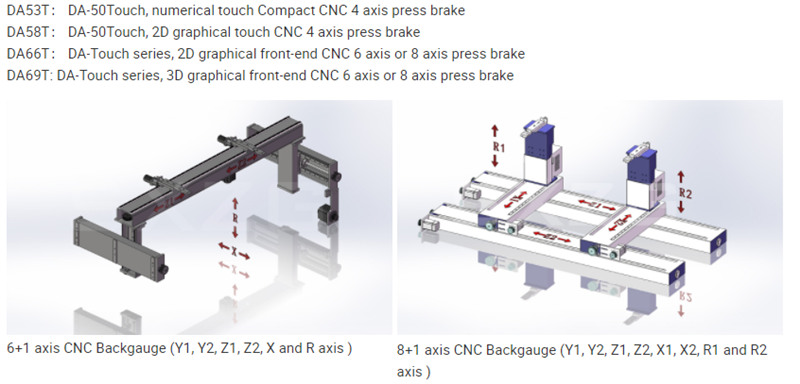 80 ton press brake
The 80-ton press brake is a medium-size conventional hydraulic brake press that Zhongrui produces, and the sheet metal to bend could be 2500mm, 3200mm, 4000mm.
Main feature
Important parts of the frame, sliders, etc. are used ANSYS finite element analysis software to ensure machine reliability.
The CNC system adopts frequency conversion control technology, with a multi-step programming function, simple and easy to operate.
Inclined wedge deflection on the compensation mechanism, in order to guarantee access to high bending accuracy.
Hydraulic drive, the cylinder on both ends of the 80 ton press brake machine, disposed on the slider to drive it to work directly.
The stroke of RAM and back gauge could be adjusted through the motor. Also it could be adjusted by hand wheel for the fine position.
Safety barrier device all around the machinery, electrical cabinets equipped with open door cut-off function, emergency stop button around front and back, protective cover foot switch to ensure safe working.
Details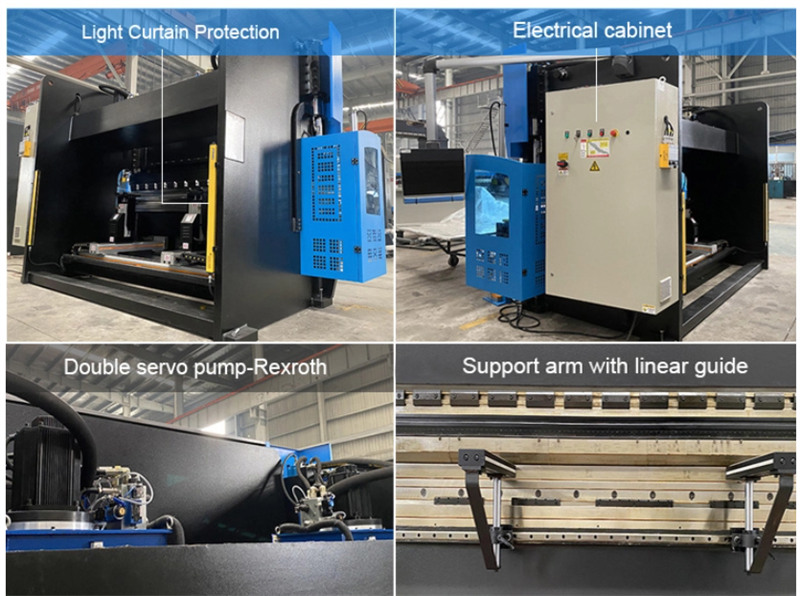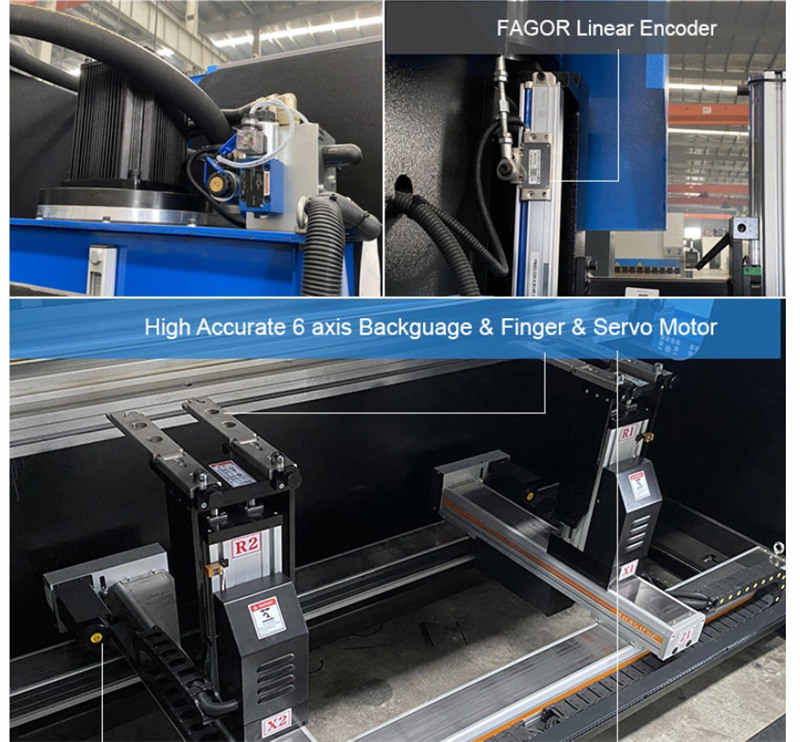 100 ton hydraulic press brake
The 100 ton hydraulic press brake body and upper beam are made of steel and has been designed according to minimum stretch and optimum resistance criteria. It configure 4 axes(Y1,Y2,X,R) and maximum 6 axes (Y1,Y2,X,R,Z1,Z2-Axis).
Main feature
Synchronized positive stop design, and by Estun CNC programmable controller assuring accurate repeatability & ease of use.
The integrated hydraulic system allowing rapid approach switching automatically to slow bend.
Inch, single-mode being designed for the machine and reversing and maintain time can be controlled by the time relays.
Mechanical stop nuts ensure stable and reliable positioning accuracy.
The segmented punches of different lengths are adopted which can be combined into a certain length according to the processing demand to meet the different requirements of special workpieces.
The 100 ton hydraulic press brake machine can be adopted with normal clamp devices or quick clamp as an option according to the customer's requirement to decrease the laborers' work intention and increase the work efficiency.
Details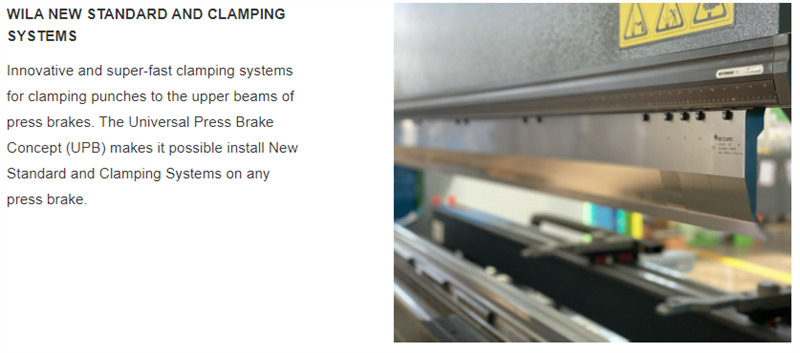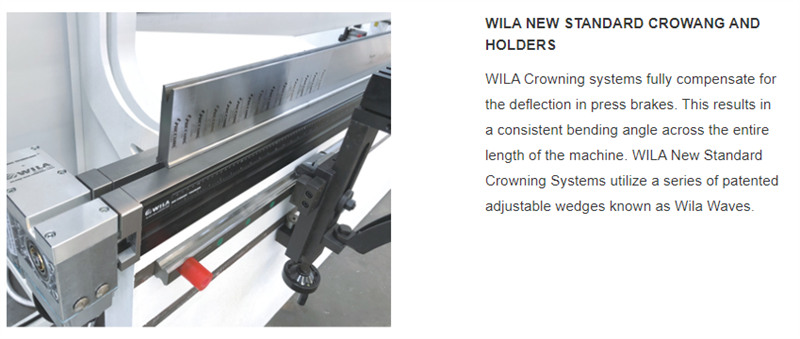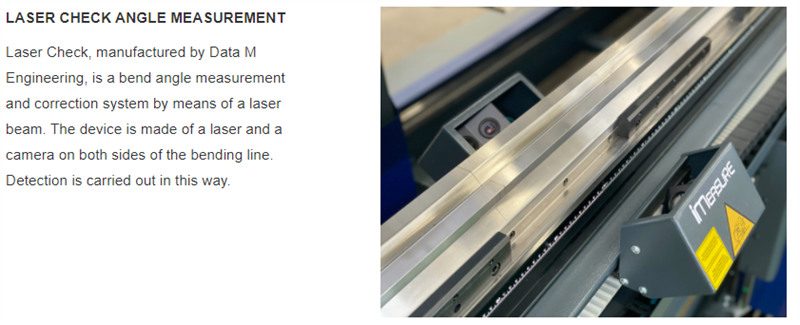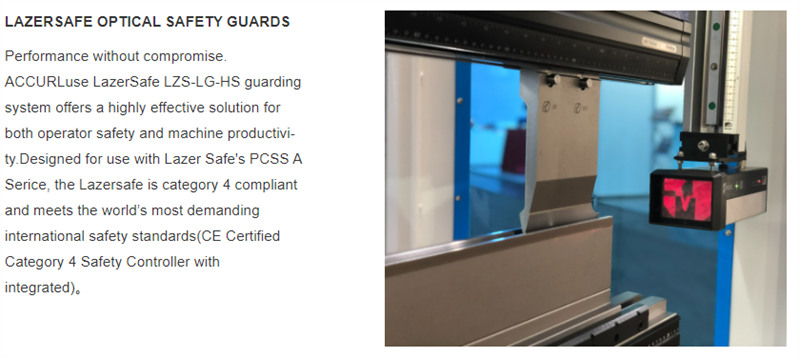 200 ton press brake
RAYMAX 200 ton press brake features an automatic CNC crowning system for improved quality. And it complies with the strictest EU regulations with reference to safety. The devices installed to guarantee the thorough safety of the operator without reducing the pace of work. The 200 ton hydraulic press brake is quite suitable for most sheet metal processing workshops.
Main feature
The parallelism between the moving upper beam and fixed lower beam during is ensured by two precision proportional valves controlled by the CNC control (axes Y1 and Y2).
Massive torsion bar for parallelism.
Forged heavy-duty cylinder and cylinder body.
The rapid approach, bending cycle, and rapid retreat.
Y1 – Y2 axes, +/- .0004" ram repeatability and programming of the ram position (vertical) as well as tilting +/- .750″ (or more) for tapered bends (cones).
Free gooseneck punch and multi-opening die for up to 90° forming in 10 gauge mild steel.
Details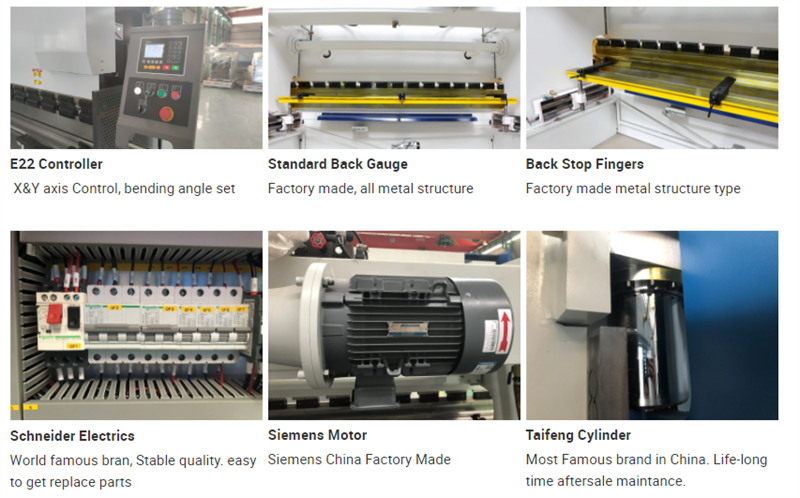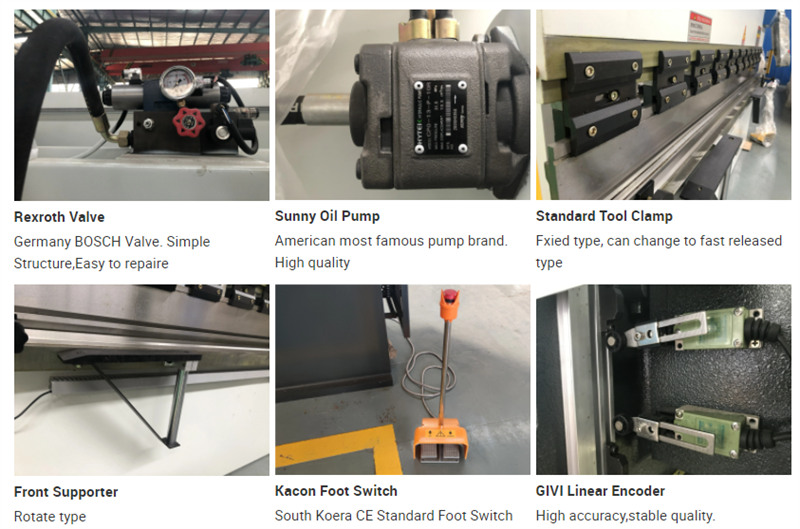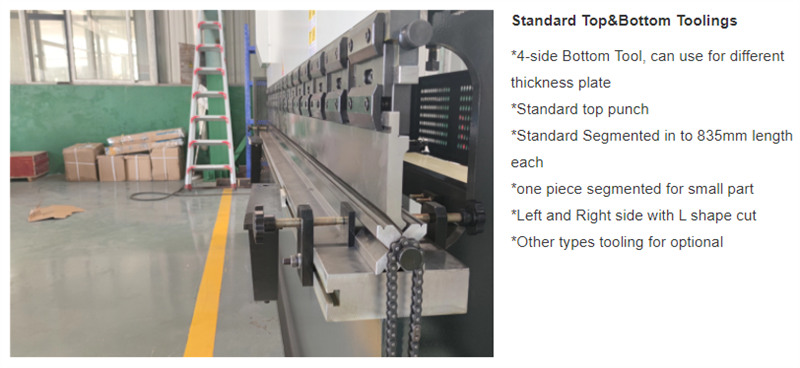 500 ton press brake
The 500-ton press brake is a popular size hydraulic-driven sheet metal bending machine. According to different lengths (4000mm, 5000mm, 6000mm, 7000mm, and 8000mm) to bend, it has different models.
Main feature
Hydraulic transmission from the double cylinder, twist shaft as the synchronous system to make sure stability of working.
The distance of back gauge travel and slider of hydraulic press brake are controlled by the motor with manual fine adjust mode, and equipped with digital indicator to make operation much more convenient.
Punching applications in one area or at varied locations across the bed. Each brake has a counterbalance valve to allow the least shock to the hydraulic system.
Extremely heavy-duty lower beams allowing the least amount of deflection. Less deflection = longer tool life = more profitability.
Precision mechanical in-line depth stop as back-up for any CNC control.
Details