The Main Feature
● The whole machine is in sheet plate welded structure, entire welded frame, with internal stress eliminated by vibration aging technology, high strength and good rigidity of hydraulic press brake machine.
● Double hydraulic oil cylinder is applied for upper transmission, provided with mechanical limit stopper and synchronous torsion bar, typical of stable and reliable operation, as well as high precision.
● Electrical control and manual fine-tuning mode are adopted for distance of rear stopper and stroke of gliding block, and fitted with digital display device, easy and quick in use.
● Slider stroke adjusting device and back gauge device: electric quick adjusting, manual micro adjusting, digital display, easy and quick in use.
● With a 180-degree swivel boom, it is easy to use and debug, and is installed to suit the height of the human body.
● Using CT12 CNC system, touch screen operation, direct and efficient.
● With angle programming function, zero-based experience can also be operated.
● Equipped with a quick clamping of the mold to quickly change the mold.
● Electro-hydraulic synchronous proportional valve control accuracy, bending accuracy is higher.
● Double-axis rear material structure, high-strength channel steel material, strong high-precision zero clearance.
● Adopt the domestic first-class brand of oil cylinders, and use imported German hydraulic valve sets, the quality is guaranteed.
● Upper workbench have Straight line adjusting mechanism to eliminate long-term use of mechanical error.
Large size throat can be process larger workpiece.
Standard Equipment
Safety Standards(2006/42/EC):
1. EN 12622:2009 + A1:2013
2. EN ISO 12100:2010
3. EN 60204-1:2006+A1:2009
4. Front finger Protection(Safety light curtain)
5. South Korea Kacon Foot Switch(Level 4 of safety)
6. Back metal safe fence with CE standard
CybTouch CNC Controller
CybTouch CNC Controller From Switzerland
●12" color LCD display, LCD Touch screen, icon recognition function
●The "EasyBend" page is processed with easy single bending
●The fully efficient bending programming can meet the needs of mass production and processing.
●Automatically calculate bending angle, main pressure and deflection compensation.
●Automatic calculation of bending data.
●Automatic calculation of pressure and deflection compensation.
●Automatic calculation of upper die depth.
●Angle, rear gear correction 2D graphics programming.
●Automatically simulate the bending sequence and provide the best bending scheme (option)
The feature:
Easy Operating
Large, vivid and high-contrast fully touch screen.
Simple pages, clear display, large keys.
Intuitive user-friendly interface.
Complete programming for efficient mass-production with multiple bends.
Easy single bends with Easy Bend page.
On-line help and interactive warning pop-ups.
Comfortable wireless data backup and software updating using PC or Notebook.
Large variety of languages available.
Better Bending
Various automatic calculations of bend functions.
Bending sequences and programs can be memorized.
Angle, pressure and crowning management.
Easy manual movement.
Offline 2D software available.
Powerful
Controls 4+1 axes
Automatic bend sequencing (option).
Bend allowance calculation.
Pressure - crowning calculation.
Modular tools for each part or bend.
Angle and back gauge correction.
Tele maintenance via wireless connection with PC or notebook.
USB port for memory stick for data transfer/backup.
CybTouchTools
All CybTouch come with CybTouchTools, which allows to wirelessly transferring data between a PC and CybTouch (requires optional RFLink USB key). It is used to backup/restore machine parameters, tools and parts, as well as updating the firmware.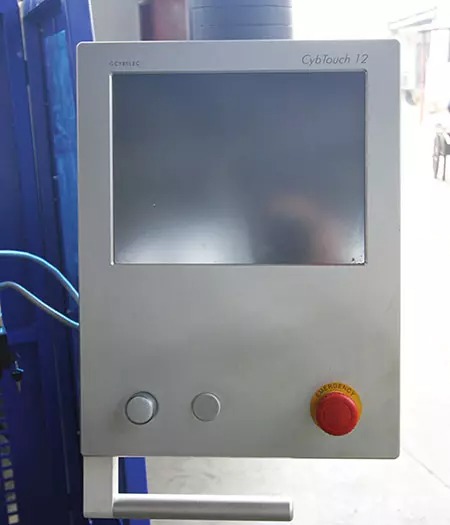 CNC back gauge 4+1 axis
Adjustment of back gauge is controlled by servo motor
Synchronous belt transmission system, combined with high-precision guide rail screw to improve work efficiency, work repeat accuracy ± 0.015mm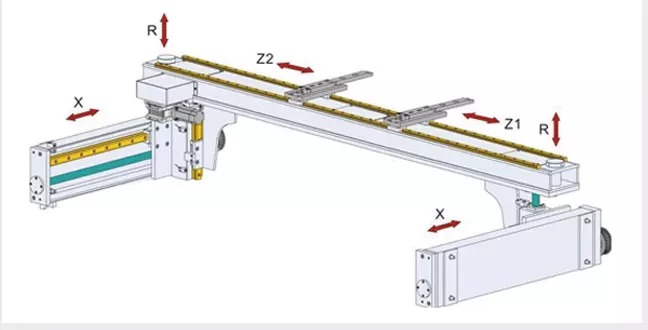 Quick Clamp
1. The mold can be installed and removed to the left and right when pull the red handle
2. The mold can be installed up and down when press the button
3. Scale more accuracy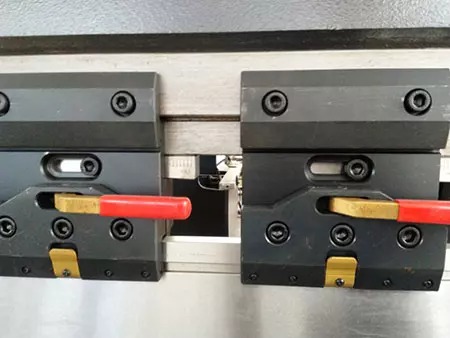 Schneider Electrical system
Equipped with dust proof cabinet to guarantee the high quality electrical system. It conforms to international standards, is safe and reliable, has a long service life, and has strong anti-interference ability. The electrical cabinet is equipped with a Cooling device.
Open door power off
Electric cabinet with function of opening door to cut off power.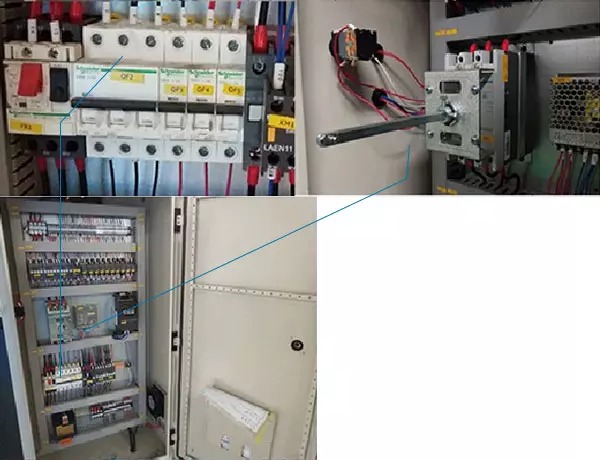 The stopper
The stopper move left and right on two linear guides.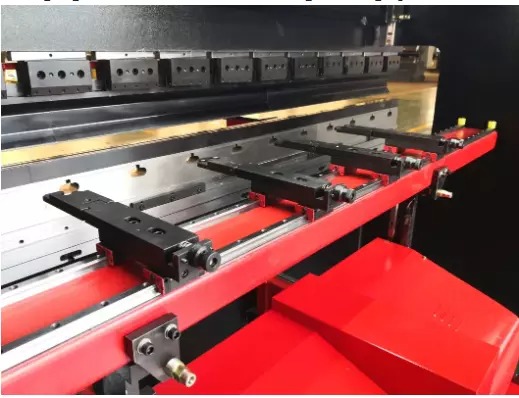 High precision
High precision electric table crowning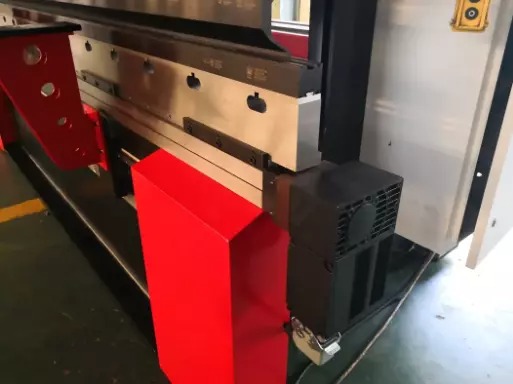 Double structure front arm
Double structure front arm is higher rigidity, superior carrying capacity .It can be adjusted up and down or move along the workbench from side to side
It can reduce labor intensity and improve productivity.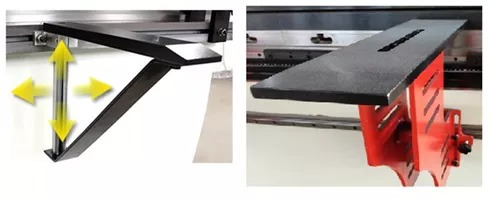 Quick clamp
1. The mold can be installed and removed to the left and right when pull the red handle
2. The mold can be installed up and down when press the button
3. scale more accuracy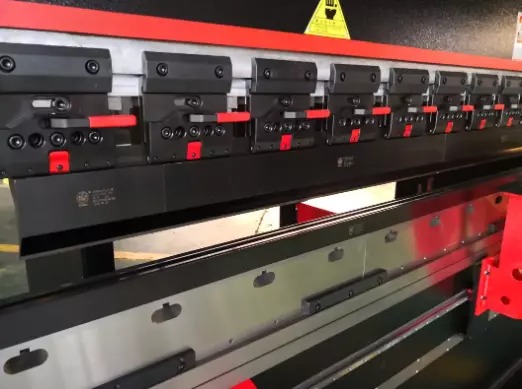 The guideway use the brass, wear-resistance, long service life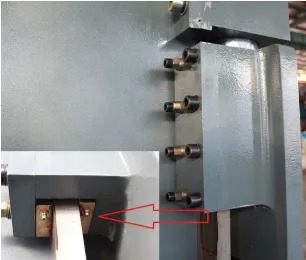 Novel and unique dual linear guide rail structure to ensure excellent positioning accuracy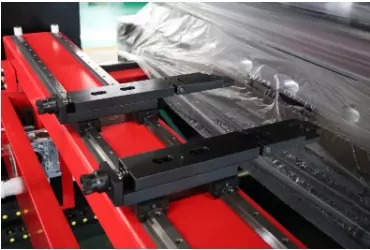 High-precision grating scale mounted on C-board.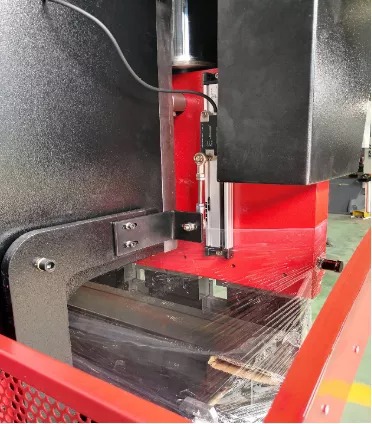 Pedal switch with emergency stop.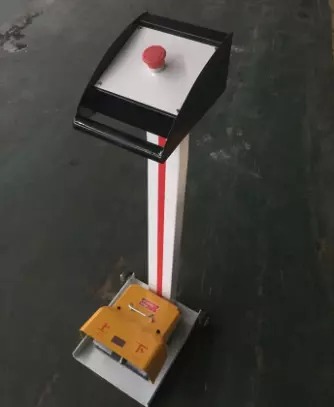 Servo Motor and drive satisfy high precision positioning requirements.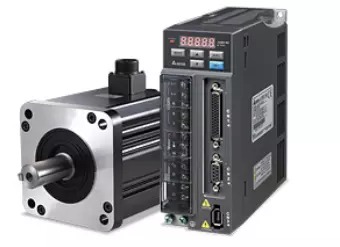 All machines and molds (die/punch) can be customized according to requirements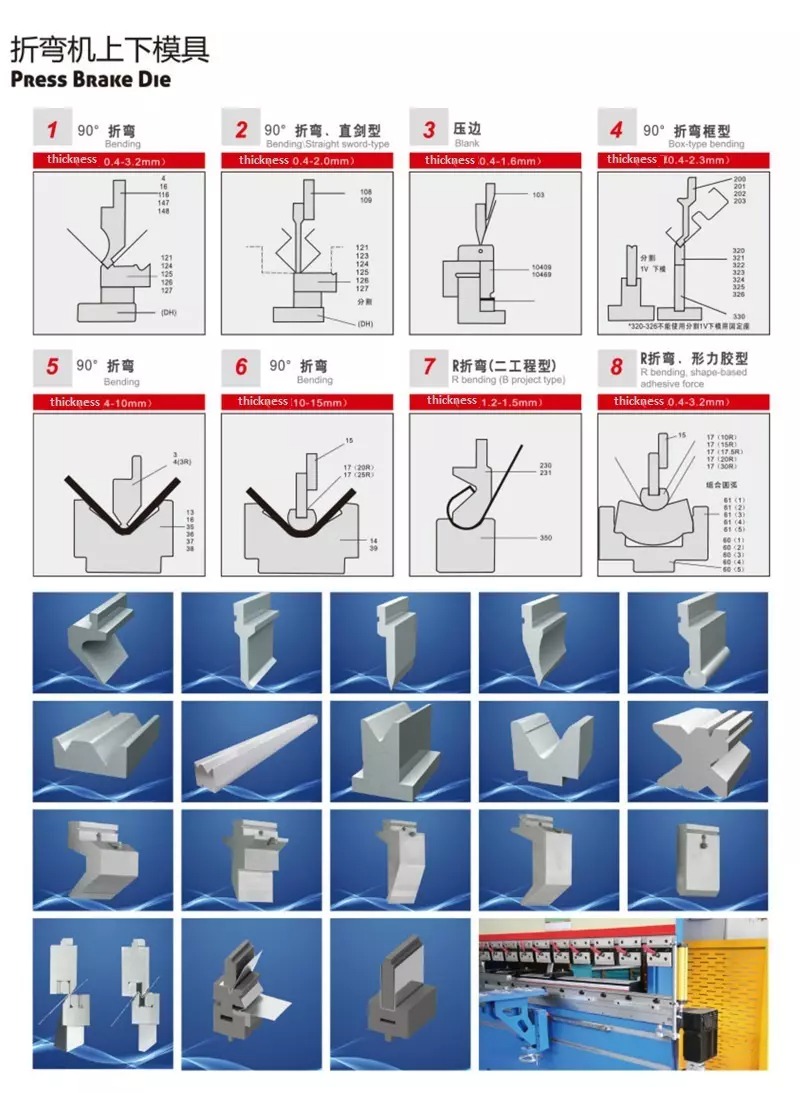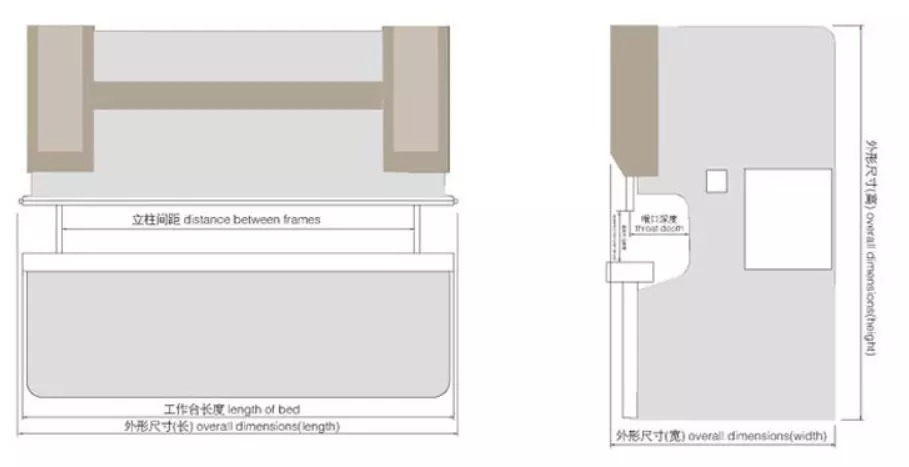 Technical