The Main Feature
● The hydraulic press brake machine is in sheet plate welded structure, entire welded frame ,with internal stress eliminated by vibration aging technology, high strength and good rigidity of machine.
● Double hydraulic oil cylinder is applied for upper transmission, provided with mechanical limit stopper and synchronous torsion bar, typical of stable and reliable operation, as well as high precision.
● Electrical control and manual fine-tuning mode are adopted for distance of rear stopper and stroke of gliding block ,and fitted with digital display device, easy and quick in use.
● Slider stroke adjusting device and back gauge device: electric quick adjusting ,manual micro adjusting ,digital display ,easy and quick in use.
● With a 180-degree swivel boom, it is easy to use and debug, and is installed to suit the height of the human body.
● Using CT8 CNC system, touch screen operation, direct and efficient.
● With angle programming function, zero-based experience can also be operated.
Standard Equipment
Safety Standards(2006/42/EC):
1. EN 12622:2009 + A1:2013
2. EN ISO 12100:2010
3. EN 60204-1:2006+A1:2009
4. Front finger Protection(Safety light curtain)
5. South Korea Kacon Foot Switch(Level 4 of safety)
6. Back metal safe fence with CE standard
CybTouch CNC Controller
CybTouch CNC Controller From Switzerland
As part of the CybTouch range, it has an intuitive and vivid color touch screen and a high integration of functions.
Thanks to its interactive touch software interface with large keys, on-line help, and many other automatic functions that constantly guide the operator, CybTouch 8 is as simple as a positioner control.
CybTouch 8 comes with a robust, modern and streamlined housing specially designed to be mounted on an arm.
● 7" monochrome LCD Touch screen
● 3 regular materials are set by default in the system: steel, stainless steel, aluminum. Users can add new materials by themselves
● numerical programming
● Internal backup function: save production and parameters
● RF-link wireless radio frequency data communication allow backup and restoring operations
● On-line help and interactive warning pop-ups
● Angle and back gauge correction.
Easy Operating
Intuitive user-friendly interface.
Simple pages, clear display, large keys.
Large, vivid and high-contrast fully touch screen.
Complete programming for efficient mass-production with multiple bends.
Easy single bends with Easy Bend page.
On-line help and interactive warning pop-ups.
Comfortable wireless data backup and software updating using PC or Notebook.
Large variety of languages available
Better Bending
Various automatic calculations of bend functions.
Bending sequences and programs can be memorized.
Angle, pressure and crowning management.
Easy manual movement.
Offline 2D software available
Powerful
Controls 4+1 axes
2D graphic profile creation with manual sequencing (option).
Bend allowance calculation.
Pressure – crowning calculation.
Modular tools for each part or bend.
Angle and back gauge correction.
Telemaintenance via wireless connection with PC or notebook.
USB port for memory stick for data transfer/backup.
CybTouchTools
All CybTouch come with CybTouchTools, which allows to wirelessly transferring data between a PC and CybTouch (requires optional RFLink USB key). It is used to backup/restore machine parameters, tools and parts, as well as updating the firmware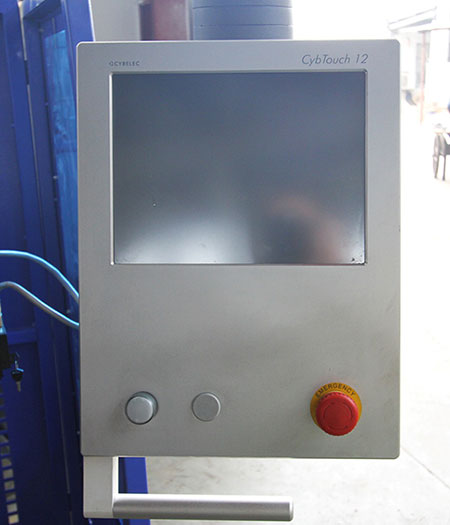 Quick Clamp
1. The mold can be installed and removed to the left and right when pull the red handle
2. The mold can be installed up and down when press the button
3. scale more accuracy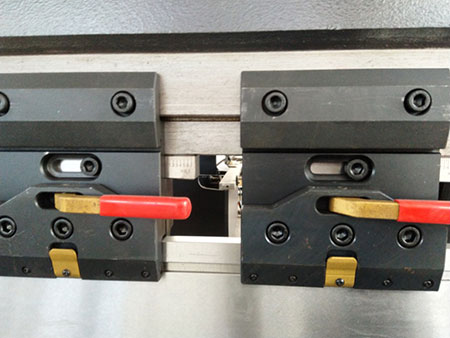 Double structure front arm
Double structure front arm with linear guide
it is higher rigidity, superior carrying capacity .It can be adjusted up and down or moved along the workbench from side to side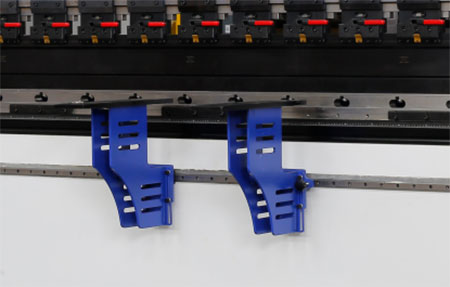 Schneider Electric Components
It conforms to international standards, is safe and reliable, has a long service life, and has strong anti-interference ability. The electrical cabinet is equipped with a Cooling device.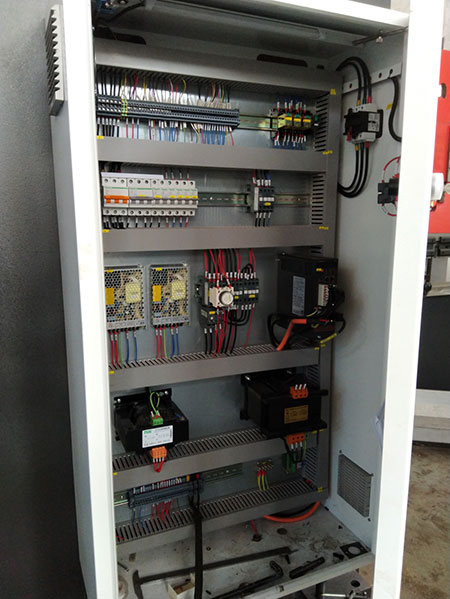 Kacon Pedal Switch
South Korea Kacon pedal switch ,improving the service life and operational sensitivity.
It can stop the machine anytime by the emergency button.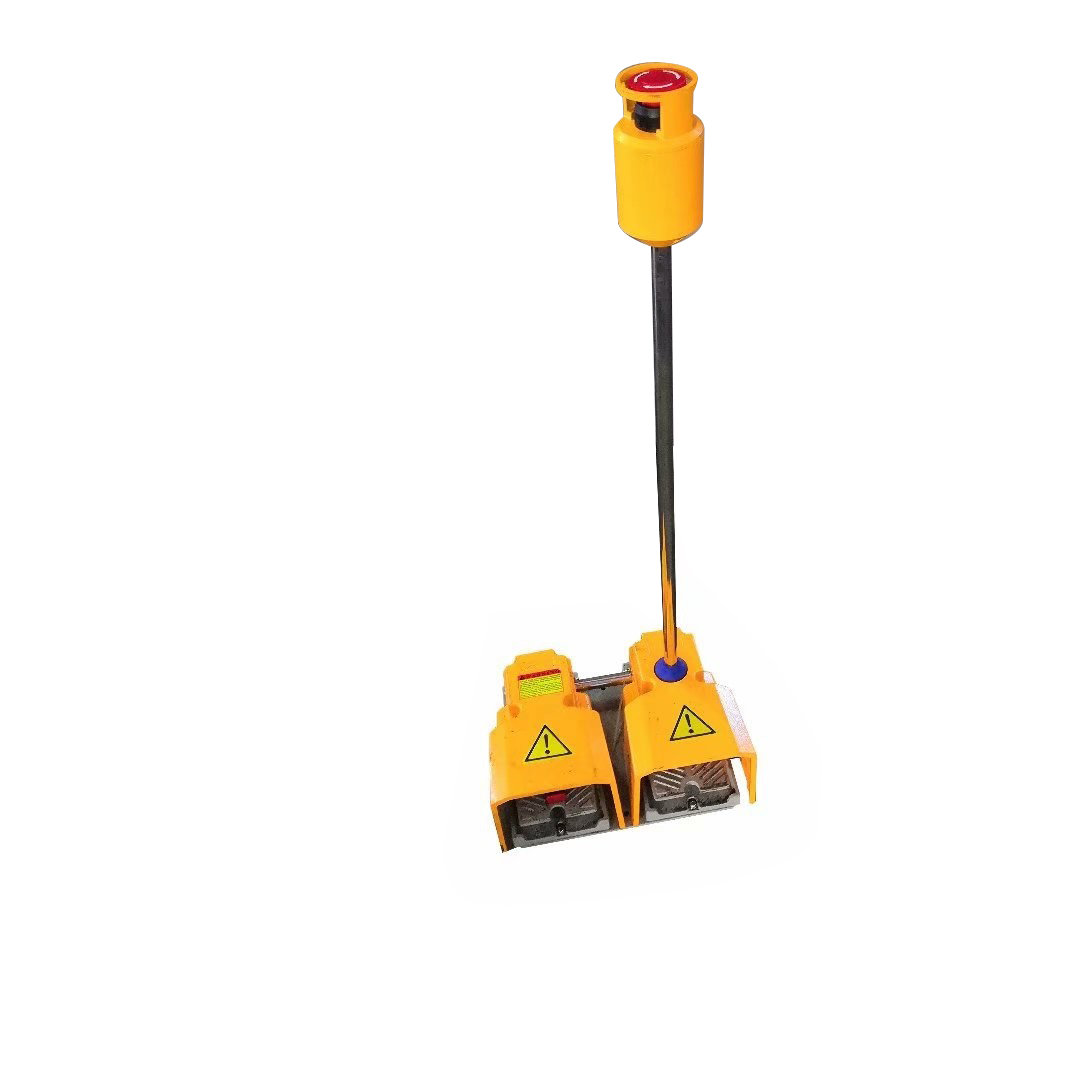 Hydraulic Compensation Mechanism
Working principle: bending process, the slider and workbench produced a certain amount of deformation due to stress, the machine adopts workbench and compensation cylinder system for the slider deformation ,make corresponding compensation amount, make bending machine precision increased greatly.
This is achieved by preloading the machine ,to offset any possible deflection under load or compensate for any tool wear, so that under load contacting surfaces are parallel to each other.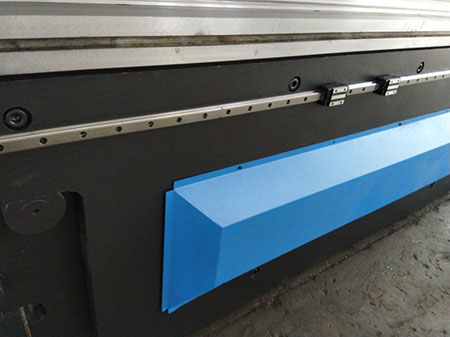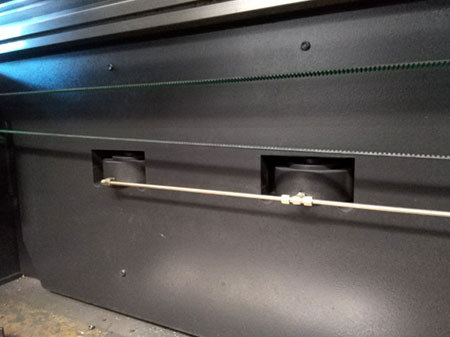 Servo backgauge assembly and liner guide, ball screw
With efficient servo motors, high ball screw, linear guide, running accuracy and speed.
They can reduce drive torque, improve transmission efficiency, ensure the positioning accuracy.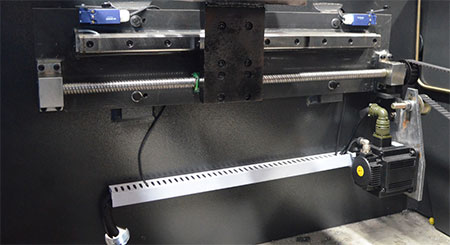 Excelent positioning acuracy
Novel and unique dual linear guide rail structure to ensure excelent positioning acuracy
Multistage gear design,increase scope.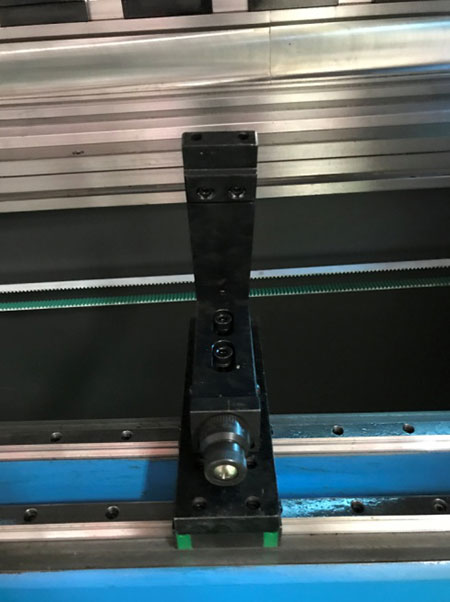 Fine adjustment with high accuracy up to ±0.02 mm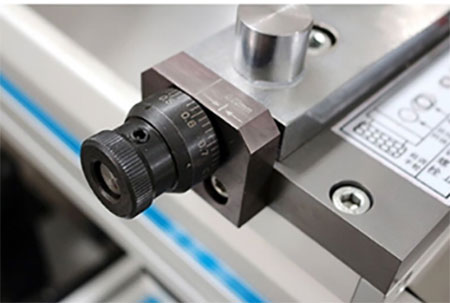 Technical