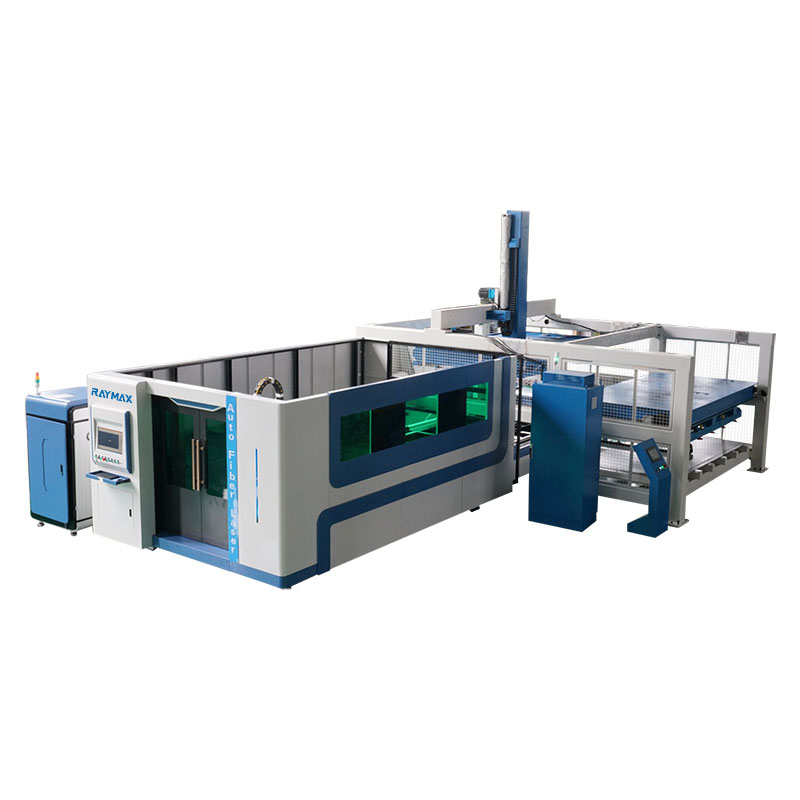 Laser cutting machine with automatic material load and unloading system
Overall lightweight design, the split modular design greatly reduces the installation time and transportation cost.
Save factory storage space: compact vertical design(upper layer is for stack of finished products, bottom layer for material pallet)
Separate loading vacuum sucker and unloading fork device: more stable working than integrated design
Material easy access: common materials are stored directly next to the machine and are immediately accessible
High efficiency: the exchange table automatically loads and unloads, which significantly improves the utilization rate of the entire system.
Unattended processing: unattended processing under very high degree
Extremely flexible and simple to operate: the forklift easily places the raw material into the storage system or removes the processed sheet from the stack.
Support automatic loading and unloading of up to 25 mm thick plates of various sizes.
Feature
▼ Better beam quality: smaller focused spot, finer cutting lines, smooth cut, beautiful appearance, no distortion, higher work efficiency, and better processing quality;
▼ The cutting accuracy is high, and the dimensional accuracy is high. The cut is flat and clean, without burrs, and material loss is minimal.
▼ This equipment is equipped with two pneumatic chucks at the front and rear, and a pneumatic chuck in the middle. The three chucks can clamp and cut at the same time, with high cutting accuracy;
▼ It can realize cutting without tails, save production cost and improve production efficiency;
▼ Exchange table ,automatic material sheet loading and unloading ,save time and improve work efficiency
▼ CNC system ,more faster working speed.
▼ The design of special sheet storage system increases the production safety.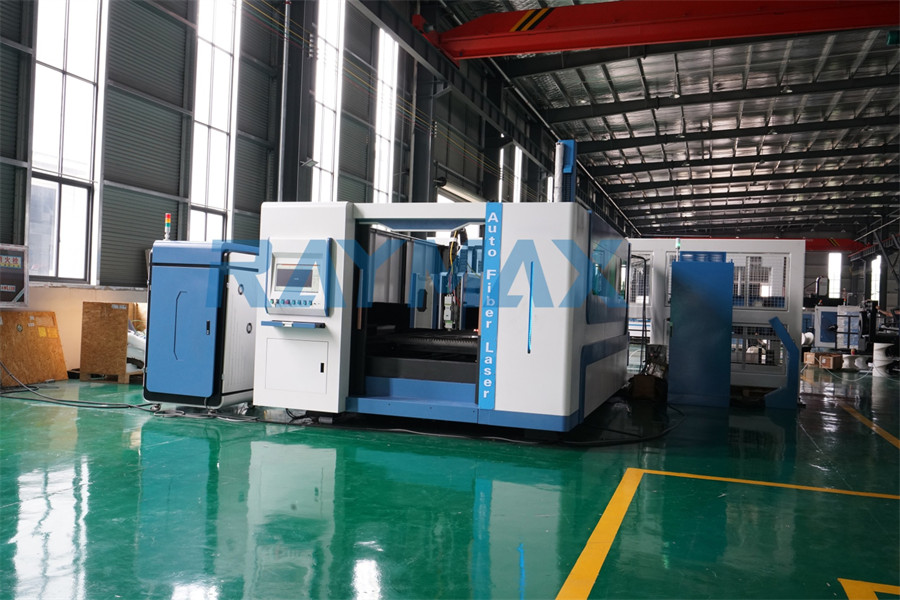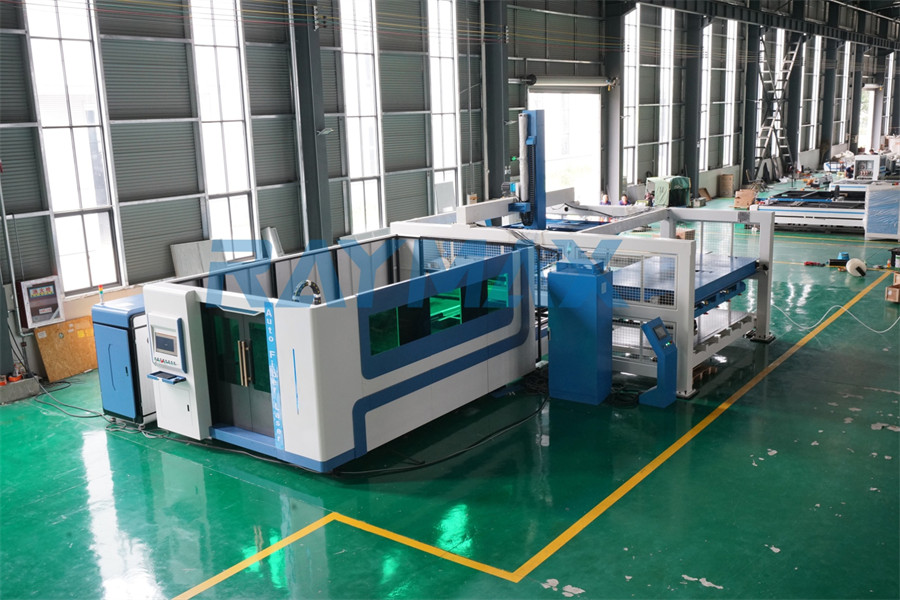 A. The number of layers of the three-dimensional storage unit can be customized according to the actual situation of the customer's site. Each storage location can store 3T plates; the whole is welded by profiles, the structure is stable, and the carrying capacity is strong; the lifting transmission adopts chain transmission, and the operation is safe and stable.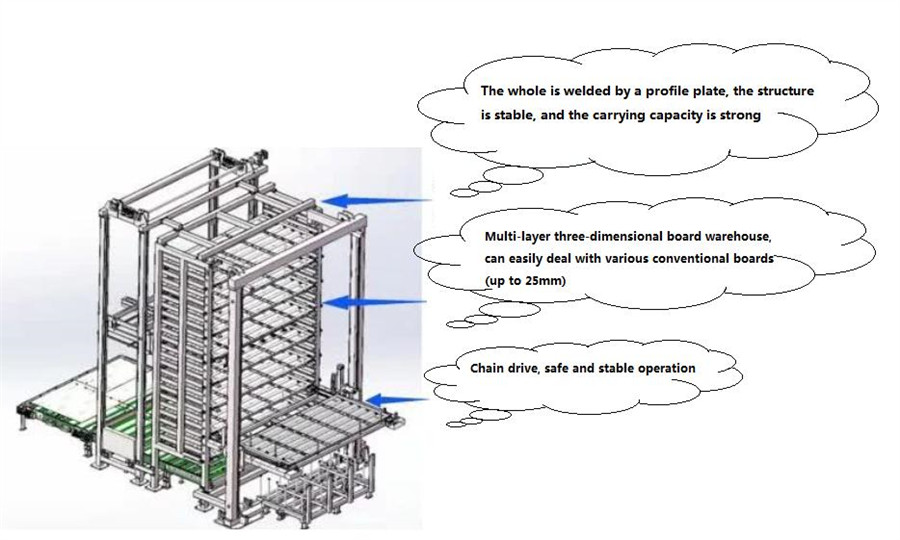 B. The loading device of the laser loading and unloading robot uses a vacuum suction cup to suck the sheet material to the laser loading area, and then sends the sheet material to the exchange table of the first laser cutting machine. At this time, the laser cutting machine loading robot moves to a safe position. The first laser cutting machine started work. Then the three-dimensional library takes out the sheet material required by the second laser cutting machine and moves it to the laser loading area, and then the laser cutting machine loading robot sucks the sheet material and sends it to the second laser cutting machine table, and the third laser cutting machine The machine circulates in turn, fully automatic operation.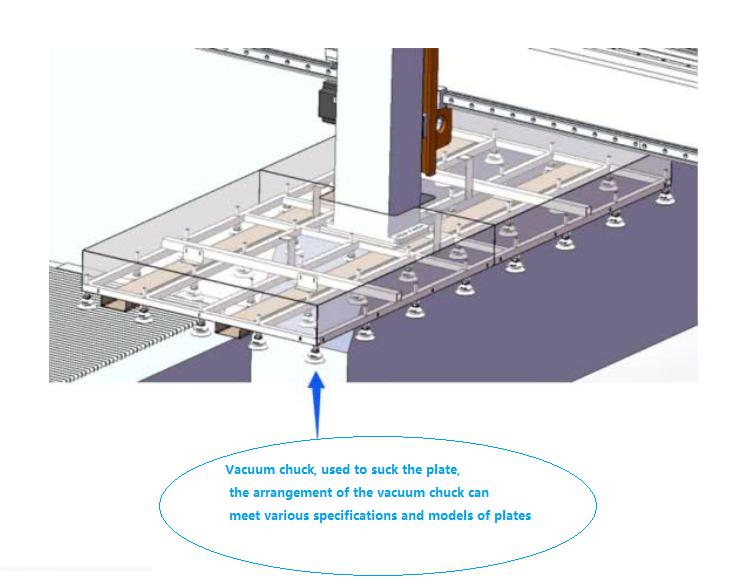 Technical parameter
| | | | |
| --- | --- | --- | --- |
| Max cutting speed | 100m/min | Laser power | 1000W-6000W |
| Material sheet loading and unloading method | Full-Automatic | Max tool power | 16kw |
| X/Y  positioning accuracy | ±0.08mm/m | Transmission | Precise rack and pinion |
| X/Y Repeated positioning accuracy | ±0.02mm | Max acceleration | 1.5G |
| Machine running temperature | 0℃-40℃ | Machine running humidity | <90% |
Model
1530
2040
2060
Processing wide (mm)
1500x3000
2000x4000
2000x6000
Approx weight (kgs)
6300
7700
10000
The workbench exchange way
Translation exchange/exchange up and down
Automatic Load & Unload System
| | |
| --- | --- |
| Cutting  table max loading sheet weight | 10500kgs |
| Storage sheet size | 3000x1500mm |
| Loading and unloading sheet thickness | Thickness   =<6mm |
| Material   Pallet (bottom layer) | 3tons |
| Stack   area max loading | 3tons |
| Vacuum   Sucker for sheet thickness | 0.8-6mm |
| Sheet  taking and discharging time(done during cutting) | 1min   30second |