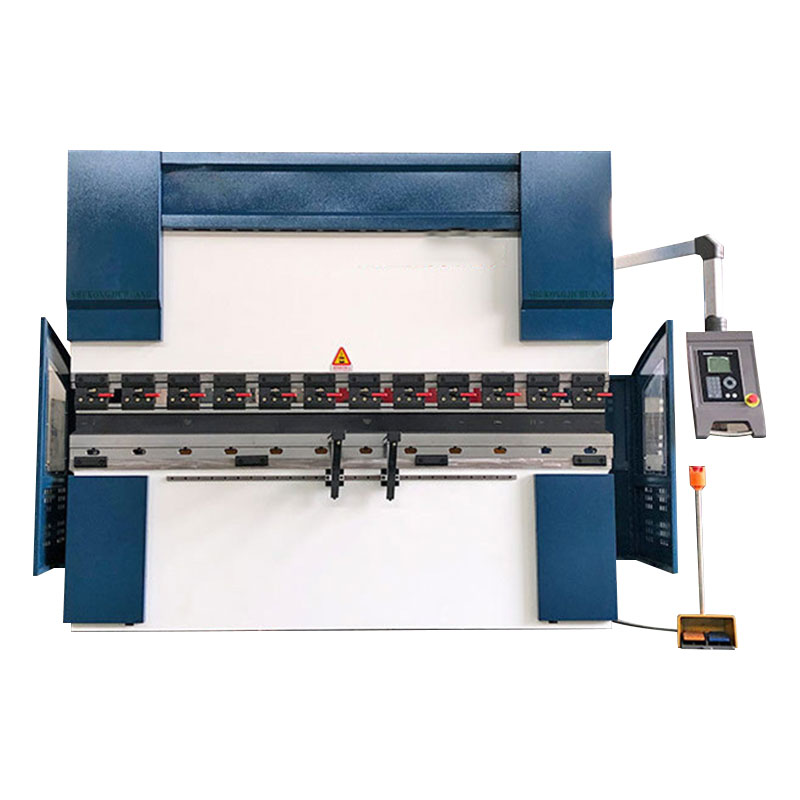 Product Description
RAYMAX Press Brake Bending machine, engineered with great care for details, is a high quality machine tool. The studies made on the framework flections have allowed us to design a product that reacts in the most appropriate and responsive way to the mechanical solicitations, therefore guaranteeing a stable structure, thus a higher precision in bending. This feature is even enhanced by a system of automatic crowning. Worth mentioning is also the possibility to add options and upgrades on the configuration, at later stage.
RAYMAX Brand product designs combine accuracy, speed, flexibility, durability, reliability and advanced technology to deliver machines with the highest performance-to-price ratio in the industry.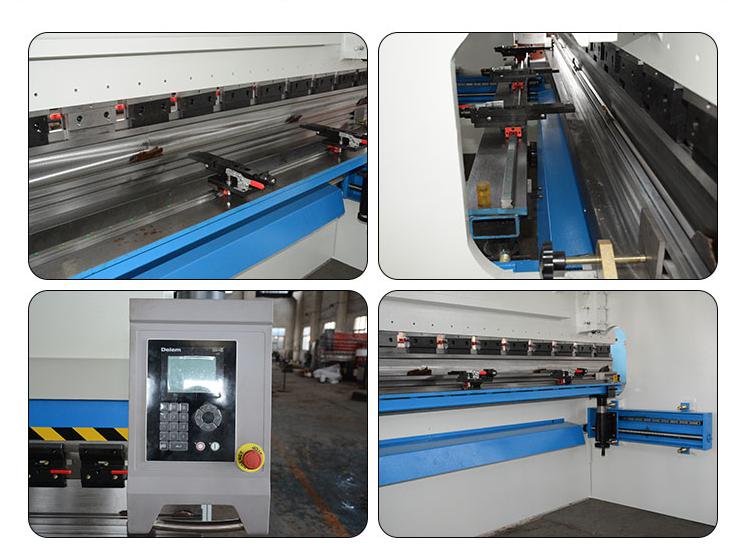 Productivity
● Automatic adjustment Powered Depth Y-axis & Back gauge X-axis.
● User-friendly control
● High performances
Precision
● Structural compensation system
● Schneider inverter-motorized axis
● Proportional hydraulics
Safety
● Machines with directive CE 2006/95 CE
● Safety light curtain
● Front finger Protection(Safety light curtain)
● South Korea Kacon Foot Switch(Level 4 of safety)
● Back metal safe fence with CE standard
Reliability
RAYMAX Brand has a strict policy for the choice of its components, on the basis of an extensive experience acquired over decades. All components are certified in accordance with European standards and their main sources are Germany, USA, Holland, Italy and Switzerland. All structural parts are calculated by the finite element method.
The Main feature
● The whole machine is in sheet plate welded structure, entire welded frame ,with internal stress eliminated by vibration aging technology , high strength and good rigidity of machine
● Double hydraulic oil cylinder is applied for upper transmission, provided with mechanical limit stopper and synchronous torsion bar, typical of stable and reliable operation, as well as high precision
● Electrical control and manual fine-tuning mode are adopted for distance of rear stopper and stroke of gliding block ,and fitted with digital display device ,easy and quick in use
● Slider stroke adjusting device and back gauge device: electric quick adjusting ,manual micro adjusting , digital display ,easy and quick in use
● The machine has inch, single, continuous mode specifications, commutation, dwell time can be controlled by time relay and Safety railing
● Remove rust with sand-blast and coated with anti-rust paint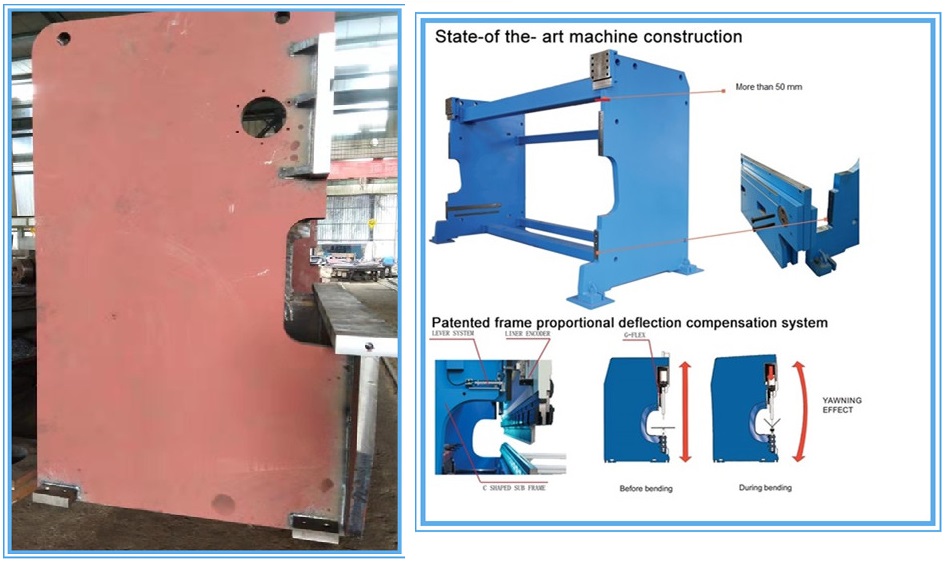 DELEM DA41
DA-41 control provides a complete solution for conventional press brake applications for 2 axes. Including the axes control for the press beam and backgauge and flexible I/O configuration, the state of the art electronics offers a versatile solution.
With its bright LCD display a clear and easy control is offered. The numerical programming, having angle, tool and material parameters on hand, can be done in a direct table overview. The bend parameters can be selected via a user-friendly cursor manipulation.
The axes control supports servo control, two-speed AC control as well as unipolar control. Depending on the application you can select either two-side positioning as well as single side positioning with spindle fault elimination.
● Bright LCD display
● Beam stop control
● Backgauge control
● Angle programming
● Tool programming
● Retract function
● Up to 100 programs
● Up to 25 bends per program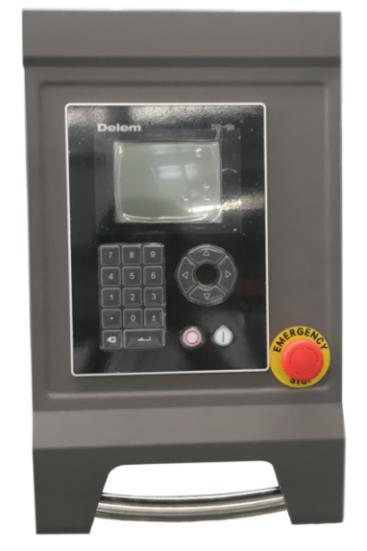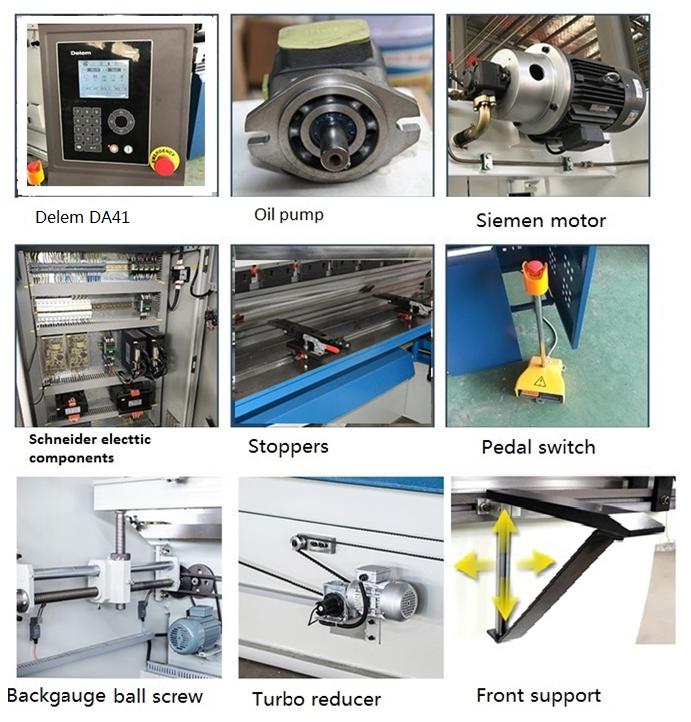 Product Parameter
WF67Y(K) Press Brake