Product Description
CNC series electro hydraulic serve pump controller CNC press brake machine is of servo main motor which drives 2 way pump to control dual oil cylinder synchronously mechanical (hydraulic) crowning compensation device is equipped.
The sheet metal press brake features energy saving by 50%, oil volume saving by 70% compared with traditional hydraulic press bake machine.
Multi backgauge axes are available steel weld machine frame gets annealing treatment with constant accuracy Netherlandish DELEM DA66T.
Video
DELEM DA66T CNC controller
The new generation DA-Touch controls offers an even higher grade of efficiency in programming, operation and control of today's press brake bending machine. Ease of use combined with state-of-the-art technology go hand in hand, improving productivity.
The touch screen gives access to the proven Delem user-interface and enables direct navigation between programming and production. Functions are directly located where you need them, offering optimized ergonomics throughout the application.
The DA-66T offers 2D programming that includes automatic bend sequence calculation and collision detection. Full 3D machine set-up with multiple tool stations giving true feedback on the product feasibility and handling.
Highly effective control algorithms optimize the machine cycle and minimize set-up time. This makes using hydraulic press brake machine easier, more efficient and more versatile than ever.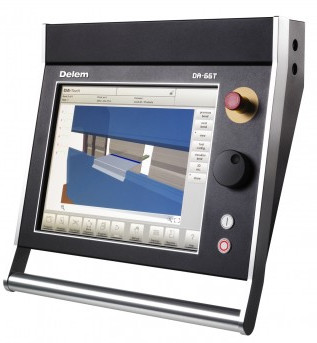 ● 2D graphical touch screen programming mode
● 3D visualisation in simulation and productio
● 17" high resolution colour TFT
● Full Windows application suite
● Delem Modusys compatibility (module scalability and adaptively)
● USB, peripheral interfacing
● User specific application support within the controllers multitasking environment
● Sensor bending & correction interface
● Profile-TL offline software
Electro-hydraulic synchronous
Electro-hydraulic synchronous cnc bending machine
1. The guardrail is thick and transparent, and USES the magnetic suction way to close, durable
2. The surface of cnc upper die is black, rustproof and divided into sections
3. The bracket can rotate 180 degrees and adjust the height smoothly
4. CNC down punch, double notches with the same core design, different notches between the conversion efficiency is high, and the use of seven font mold bracket
5. Using mechanical deflection compensation structure of table, high compensation precision, good elasticity and fast response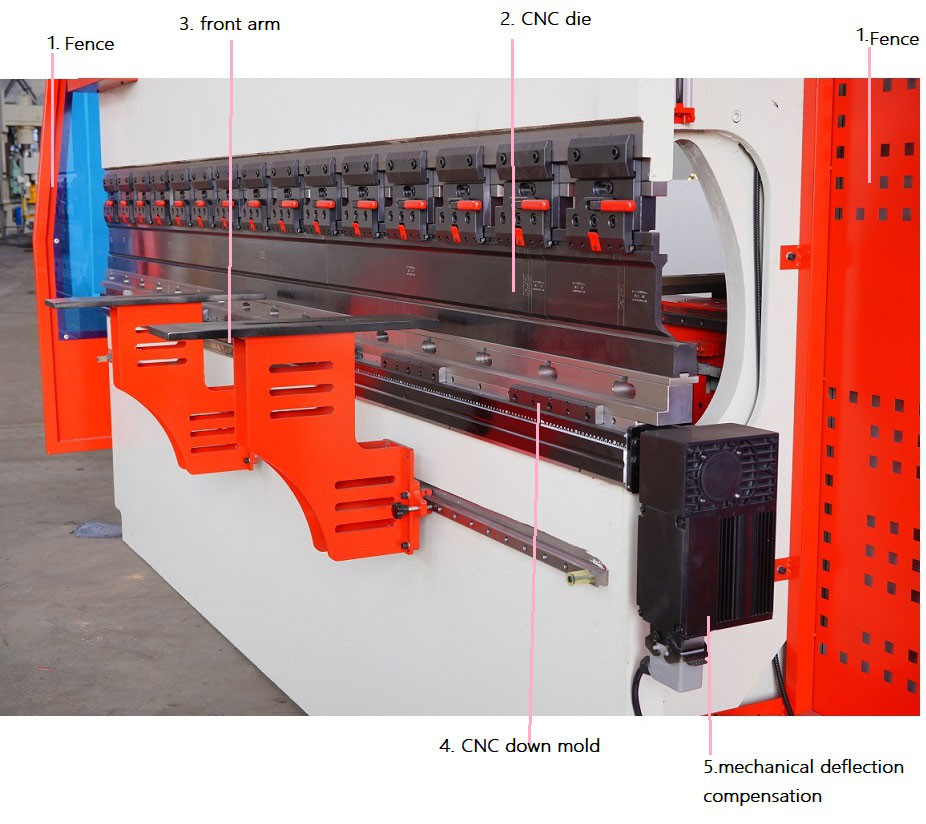 Quick clamp
1. The mold can be installed and removed to the left and right when pull the red handle.
2. The mold can be installed up and down when press the button
3. Scale more accurate
4. Save time and easy to change the die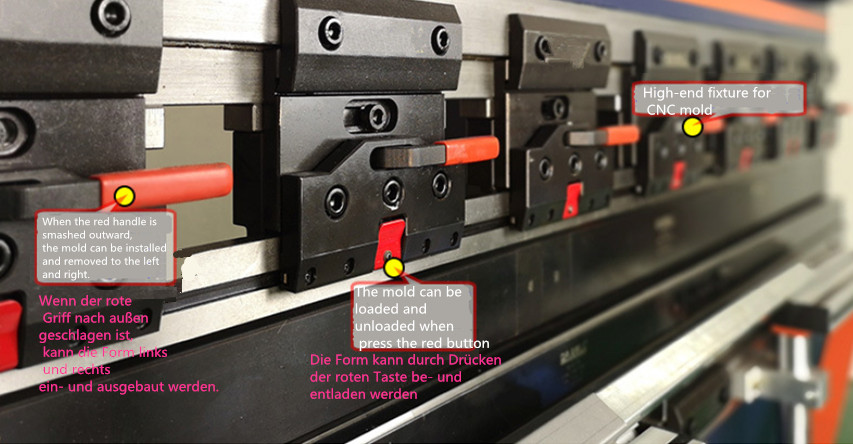 Energy-saving LED light
LED lights help the operator to operate the machine more easily and safely If the working environment is not bright.

CNC backgauge up to 8+1 axis (optional )
It made of high –strength aluminum alloy materials, driven by servo motors,and uses ball rds and liner guide rails, with excellent positioning accuracy.
Full envelope design free of maintenance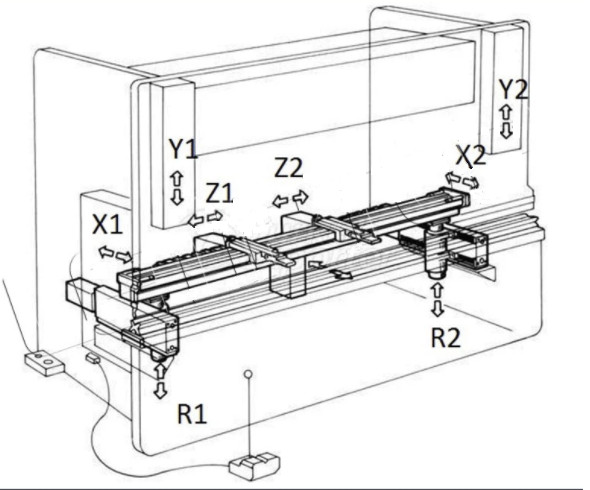 Double structure front arm
The front arms are higher rigidity, superior carrying capacity.
It can be adjusted up and down or move along the workbench from side to side.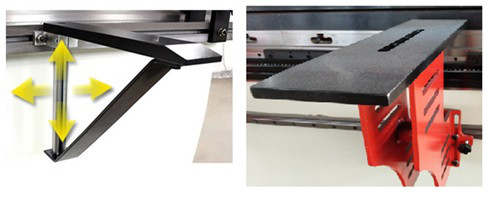 High precision
High precision grating ruler and cylinder inlet proportional valve match control angle
High precision grating feet installed on the C-type rack, overcome the fuselage bending deformation folded in half the influence of accuracy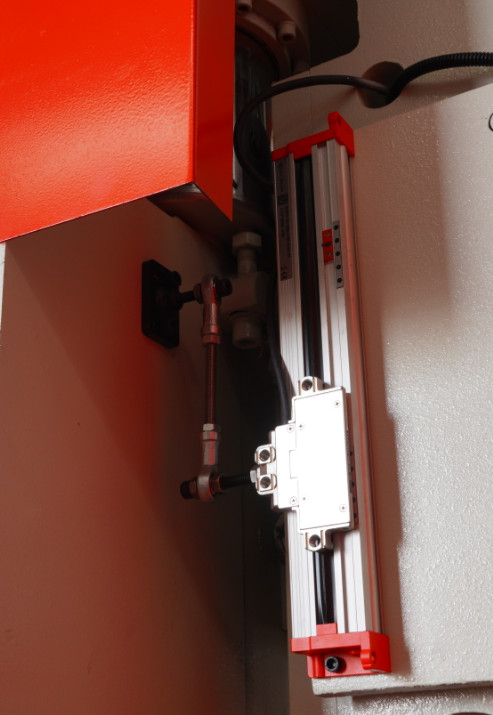 Hydraulic valve -Rexroth
Hydraulic valve -Rexroth from Germany
1. Hydraulic system with overload overflow safety protection
2. Hydraulic clear and intuitive display of oil level
3. The press brake bending machine can work continuously under rated load and can effectively alleviate problems cause by leakage of hydraulic fluid.
4. Hydraulic system decreased the pipe connections, oil leakage, and increased the stability and overall beautifies
Sunny pump
Sunny pump from American performs well and provides great power for the whole hydraulic system
Germany EMB Tube
Germany EMB Tube and Connectors, reduce the odds against welding slag jamming the valves or affect oil flowing
Sealing Ring from NOK ,Japan
Improve the service life of oil cylinder Guarantee long-term use without leakage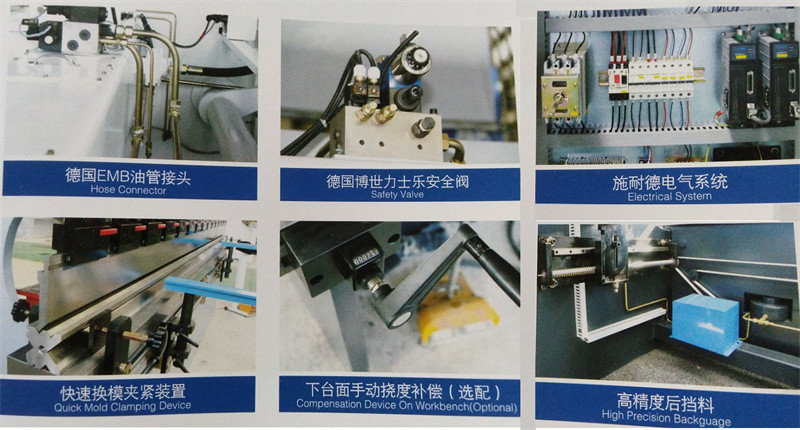 Safety Fence
Safety Fence
Protective guards on each side can protect the user during operation
Schneider Electric from French
Equipped with dust proof cabinet to guarantee the high quality electrical system. It conforms to international standards, and safe & reliable. It has a long service life and strong anti-interference ability. The electrical cabinet is equipped with a cooling
Comply with ICE60947-2
Rated insulation voltage (Ui)
500VAC
Impact voltage(Uimp)
6kV
Thermal trip reference
setting temperature
30℃
Use category
A
Current limit
3
Pollution level
3
Protection level
(IEC60529)
Circuit breaker body
Installed in the distribution box
IP20
IP40
Insulation grade:∏
Features
Short circuit protection,
overload protection,
control isolation
Use environment
-35℃~+70℃
Servo motor driven X--Axis driven by servo motor
X axis driven by ESTUN servo motor with high positioning accuracy, unique designed synchronous transmission mechanism, reliable and stable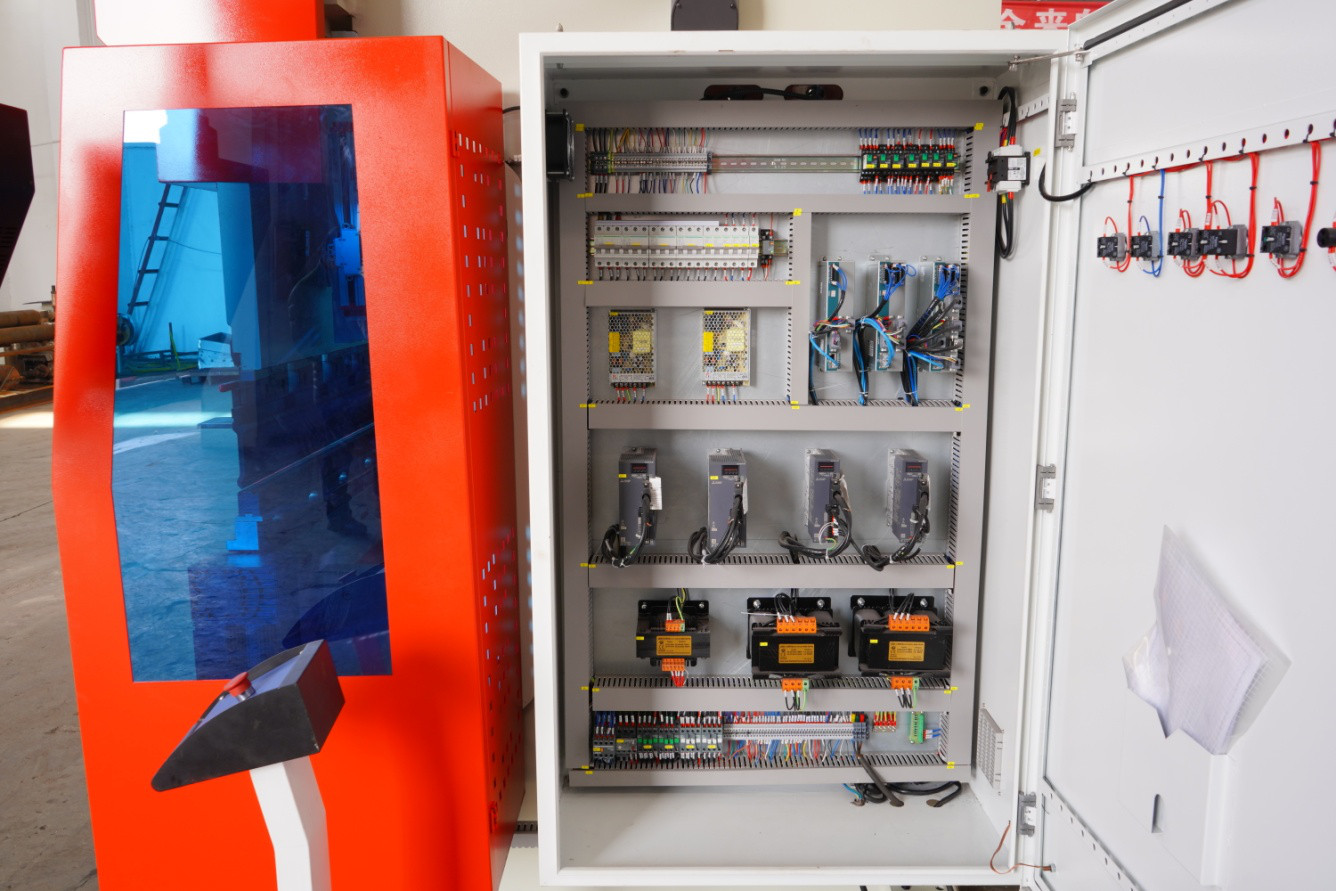 Press brake mold
All machines and molds (die/punch) can be customized according to requirements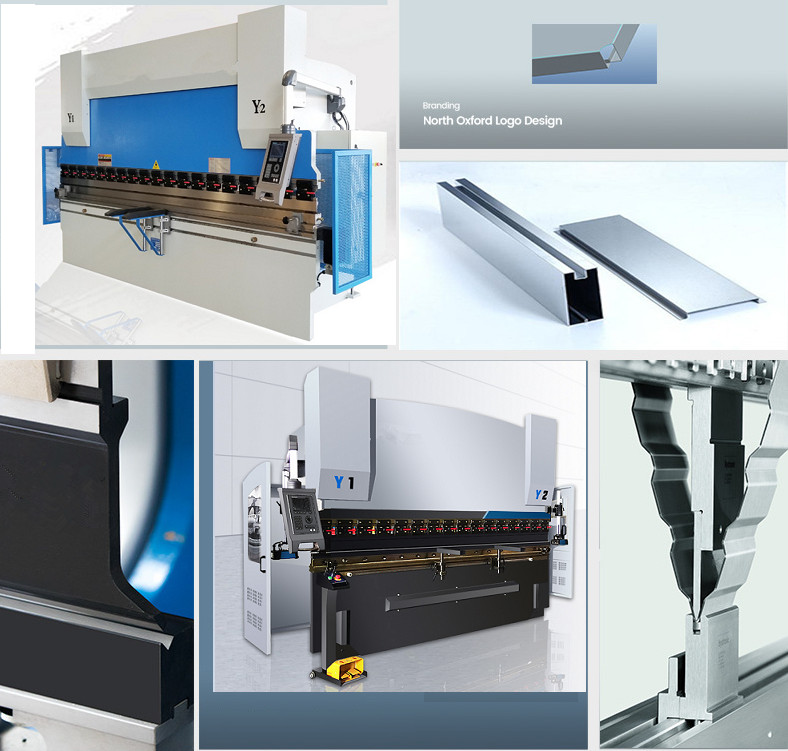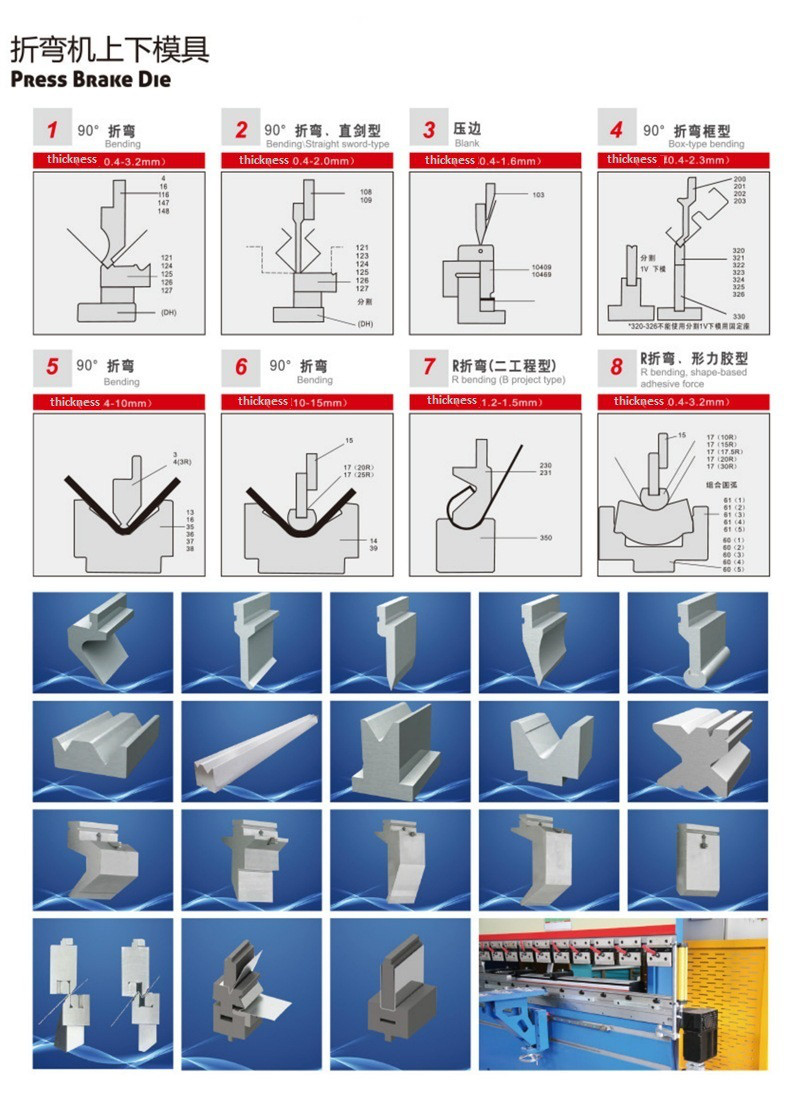 Optional