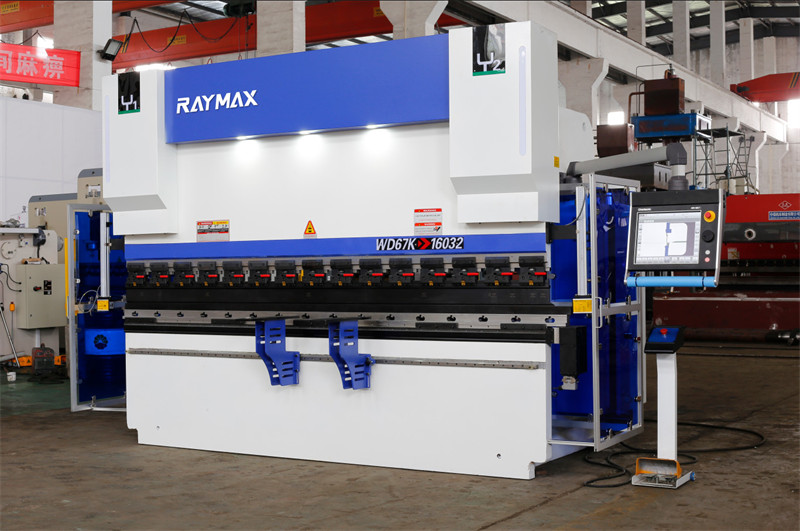 CNC series Electro hydraulic serve pump controller CNC press brake machine is of servo main motor which drives 2 way pump to control dual oil cylinder synchronously mechanical (hydraulic) crowning compensation device is equipped
The sheet metal press brake features energy saving by 50%, oil volume saving by 70% compared with traditional hydraulic press bake
Multi backgauge axes are available steel weld machine frame gets annealing treatment with constant accuracy Netherlandish DELEM DA66T
The Main Feature
● 1. The frame is steel structure, left and right vertical plate, table and pressure plate welded into a unitary structure, after welding to eliminate internal stress by tempering, exceptional rigidity, high stability.
● 2. Important parts of the frame, sliders, etc. are used ANSYS finite element analysis software to ensure machine reliability.
● 3. Hydraulic drive, cylinder on both end of machine, disposed on the slider to drive it work directly.
● 4. Torsion axis synchronization for slide synchronous mechanism.
● 5. The stroke of cylinder ( Y1,Y2) and back gauge (X,Y,Z )are computer controlled. The back guage adopt ball screw and rolling guideway, ensuring a high accuracy of repetition
● 6. Back Gauge size and slide stroke controlled by CNC system, back gauge with high precision ball screw, stable operation and precise positioning.
● 7. The CNC system adopts frequency conversion control technology, with multi-step programming function, simple and easy to operate.
● 8. Safe fence and the electric interlocker have been designed for the hydraulic press brake machine to ensure the operation safety.
● 9. Safety barrier device all around the machinery, electrical cabinets equipped with Open door cut-off function, emergency stop button around front and back, protective cover foot switch to ensure safe working.
● 10.Electronic- hydraulic proportional servos are synchronized and capable of the control of random point within the stroke ,with an accuracy of reception of ±0.01 mm and parallelism of 0.02mm .
Standard Equipment
Safety Standards(2006/42/EC):
1. EN 12622:2009 + A1:2013
2. EN ISO 12100:2010
3. EN 60204-1:2006+A1:2009
4. Front finger Protection(Safety light curtain)
5. South Korea Kacon Foot Switch(Level 4 of safety)
6. Back metal safe fence with CE standard
Hydraulic System
Hydraulic system is from Bosch -Rexroth, Germany.
When the oil comes out from the pump, all the way into the pressure cylinder first presses the sheet material, and another routing time relay controls the delay to enter the left cylinder upper chamber for about 2 seconds. The oil in the lower cylinder of the left cylinder is forced into the upper cylinder upper chamber and the right cylinder lower chamber. Oil back to the tank. The return stroke is reversed by the solenoid valve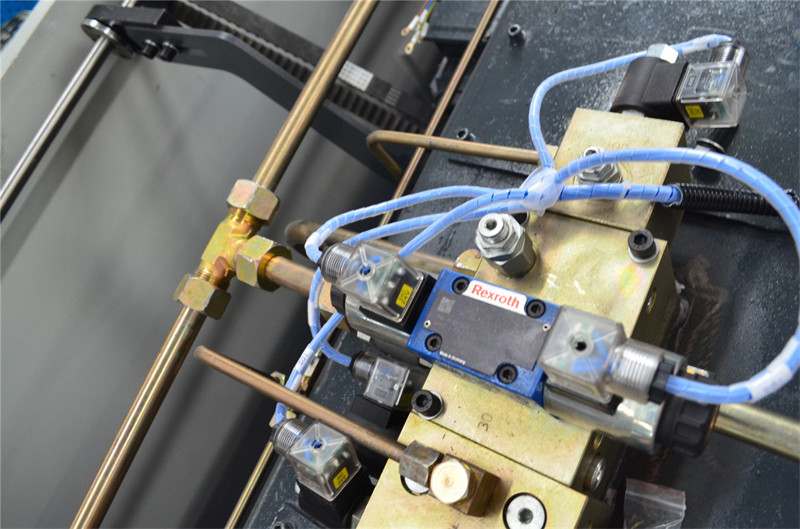 DA66T CNC controller
The new generation DA-Touch controls offers an even higher grade of efficiency in programming, operation and control of today's CNC hydraulic press brake machine. Ease of use combined with state-of-the-art technology go hand in hand, improving productivity. The touch screen gives access to the proven Delem user-interface and enables direct navigation between programming and production. Functions are directly located where you need them, offering optimized ergonomics throughout the application. The DA-66T offers 2D programming that includes automatic bend sequence calculation and collision detection. Full 3D machine set-up with multiple tool stations giving true feedback on the product feasibility and handling. Highly effective control algorithms optimize the press brake machine cycle and minimize set-up time. This makes using press brake bending machine easier, more efficient and more versatile than ever.
● 2D graphical touch screen programming mode
● 3D visualisation in simulation and productio
● 17" high resolution colour TFT
● Full Windows application suite
● Delem Modusys compatibility (module scalability and adaptively)
● USB, peripheral interfacing
● User specific application support within the controllers multitasking environment
● Sensor bending & correction interface
● Profile-TL offline software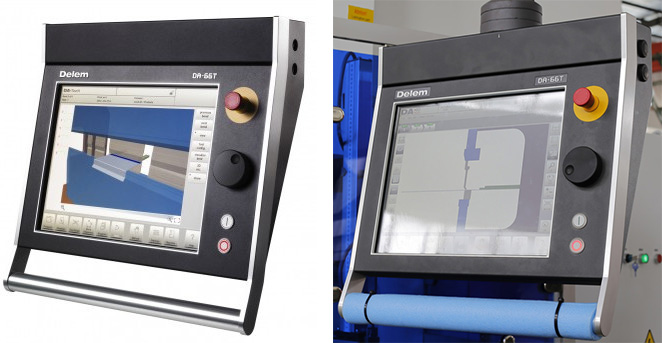 CNC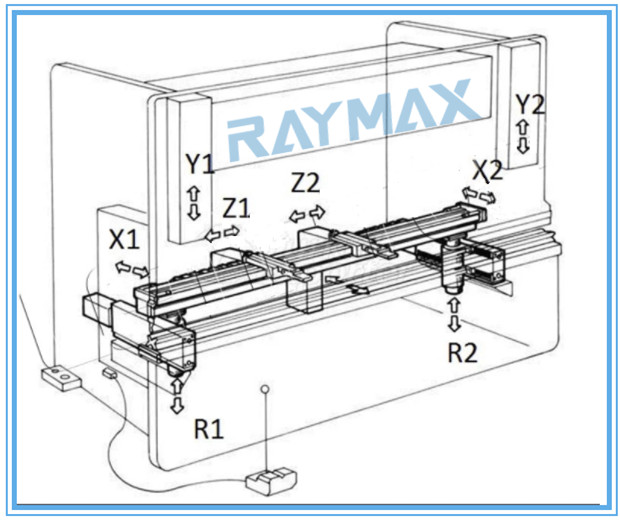 8+1Axis(Y1+Y2+X1+X2+Z1+Z2)
Quick Clamp
1. The mold can be installed and removed to the left and right when pull the red handle
2. The mold can be installed up and down when press the button
3. Scale more accuracy
Grating ruler
1)Incremental or absolute ruler based on optical or magnetic techniques for synchronous hydrauilic bending machines.
2)The reader is guided by a self-aligning and self-cleaning slider with a spring system.
3)The resolution can be up to 0.1 micron.
4)Accuracy up to ±1 micron.
5)Grating or tape with a specific linear thermal expansion coefficient.
6)Magnetic zero position device with reference to coding distance or optional every 10 mm along the entire length of measurement.
7)Safety limit switch, positioned at both ends.
8)Adjustable output cable position and optional zero reference index make the ruler symmetrical and suitable for bending machine two columns.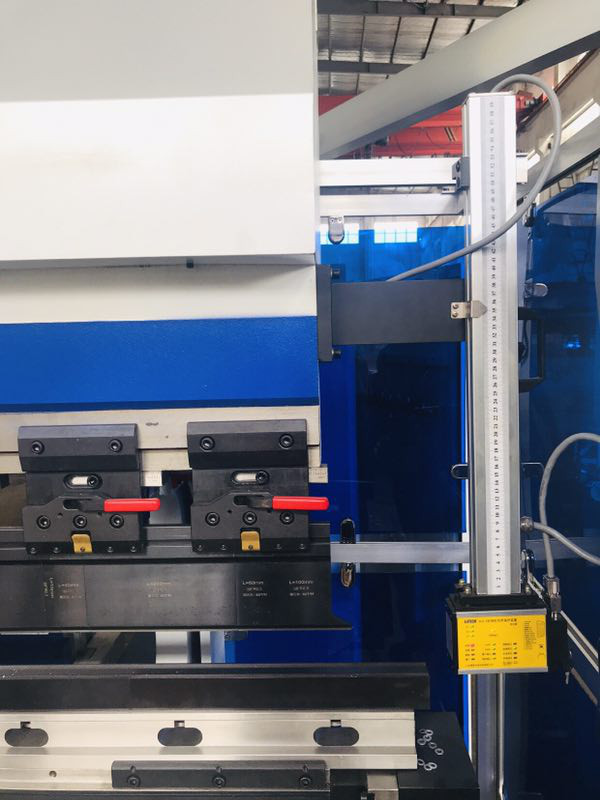 Double structure front arm with linear guide
it is higher rigidity, superior carrying capacity .It can be adjusted up and down or moved along the workbench from side to side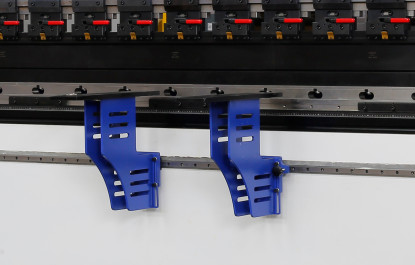 LED light
it is easier and safer when the environment is dark for the operator

Schneider Electric Components
It conforms to international standards, is safe and reliable, has a long service life, and has strong anti-interference ability. The electrical cabinet is equipped with a Cooling device.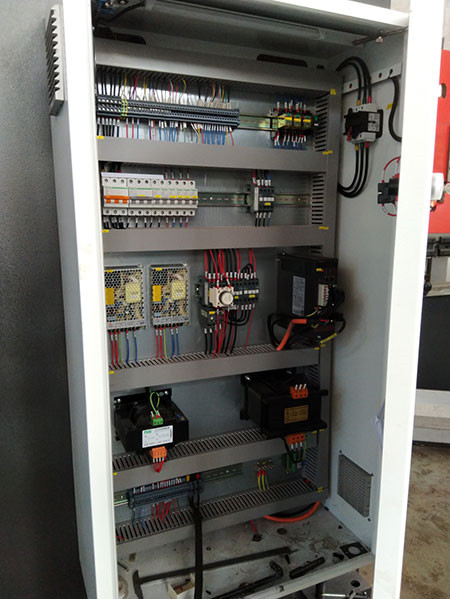 Kacon Pedal Switch
South Korea Kacon pedal switch ,improving the service life and operational sensitivity.
It can stop the machine anytime by the emergency button.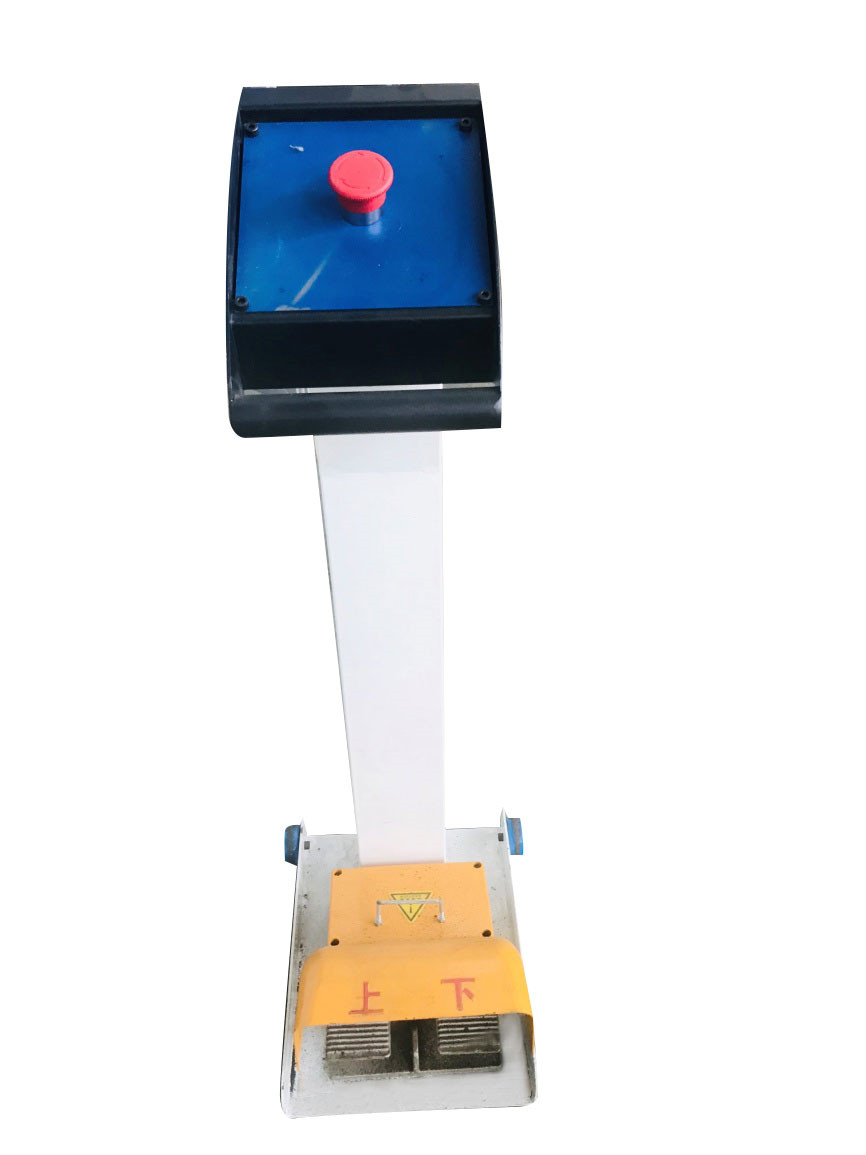 Hydraulic Compensation Mechanism
Working principle: bending process, the slider and workbench produced a certain amount of deformation due to stress, the machine adopts workbench and compensation cylinder system for the slider deformation, make corresponding compensation amount, make press brake bending machine precision increased greatly.
This is achieved by preloading the machine, to offset any possible deflection under load or compensate for any tool wear, so that under load contacting surfaces are parallel to each other.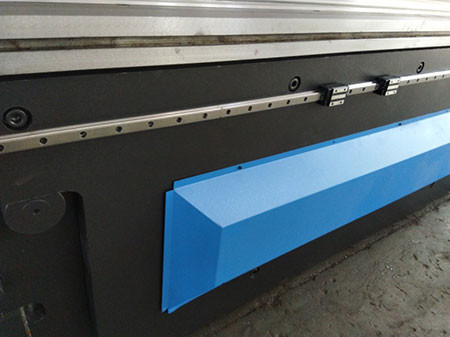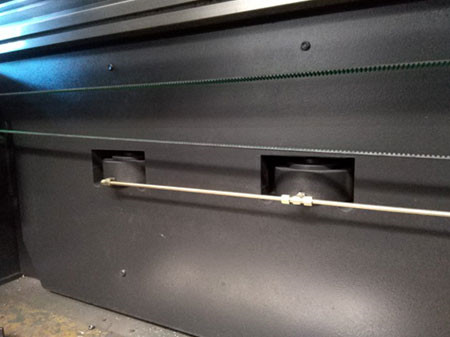 Servo backgauge assembly and liner guide, ball screw
With efficient servo motors, high ball screw, linear guide, running accuracy and speed.
They can reduce drive torque, improve transmission efficiency, ensure the positioning accuracy.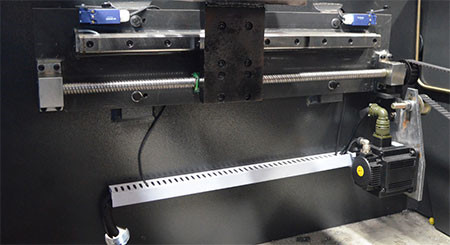 Excelent positioning acuracy
Novel and unique dual linear guide rail structure to ensure excelent positioning acuracy
The backgauge, it is made of high-strength aluminum alloy material, driven by servo motors, and uses ball rods and linear guide rails, with good positioning accuracy
Full envelope design free of maintenance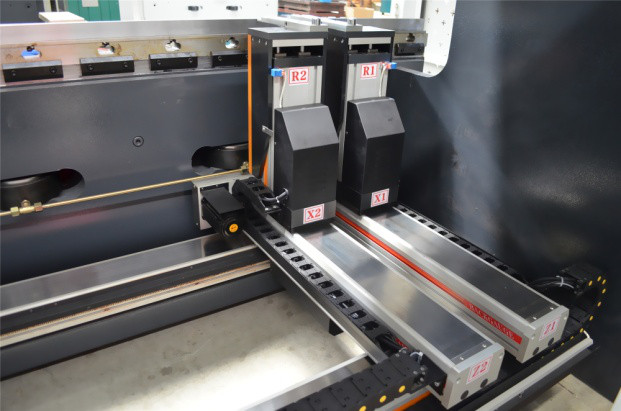 Fine adjustment with high accuracy up to ±0.02 mm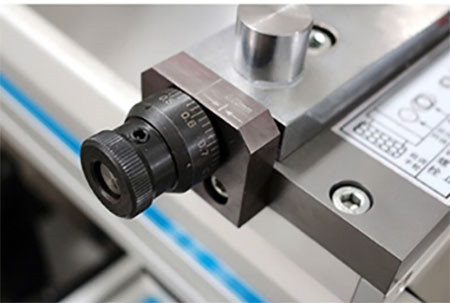 Safety Fence
Protective guards on each side can protect the user during operation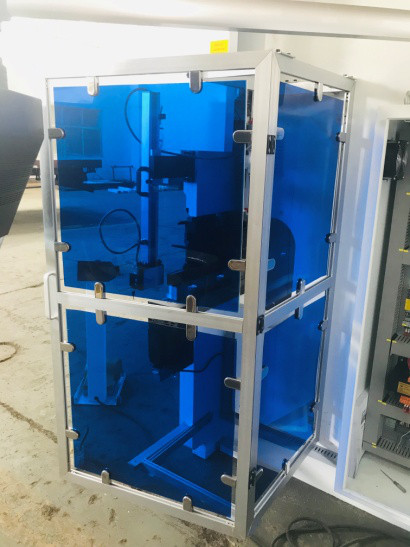 Germany EMB Tube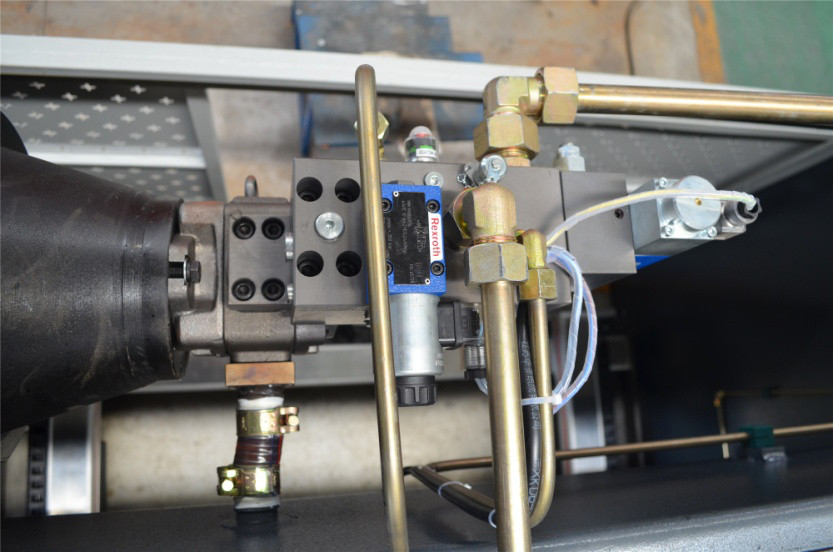 Germany EMB Tube and Connectors, reduce the odds against welding slag jamming the valves or affect oil flowing
Sealing Ring from NOK, Japan
Improve the service life of oil cylinder Guarantee long-term use without leakage
SIEMENS Main Motor
To guarantee press brake machine service life, and reduce the noise when working
Press brake mold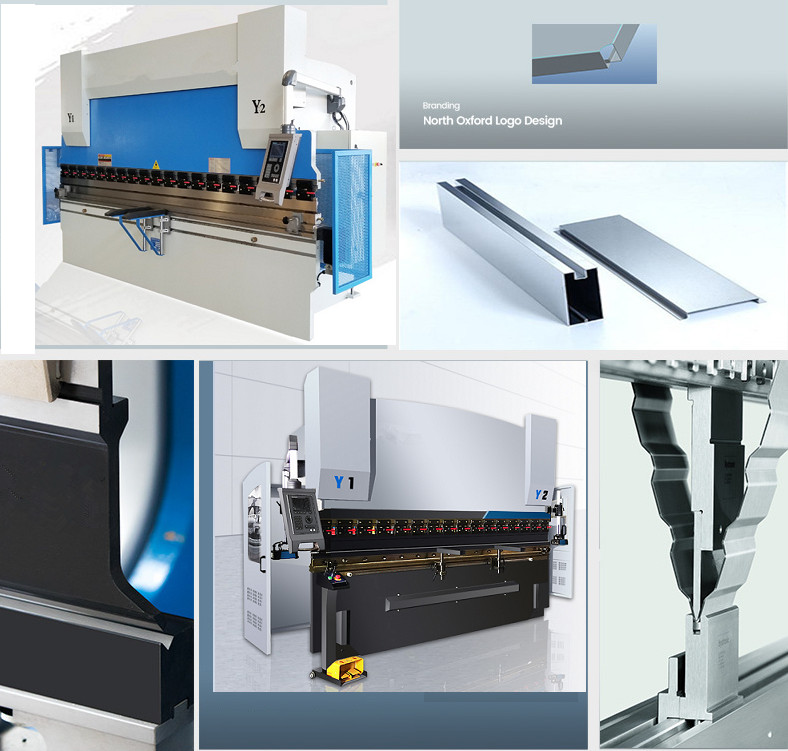 Technical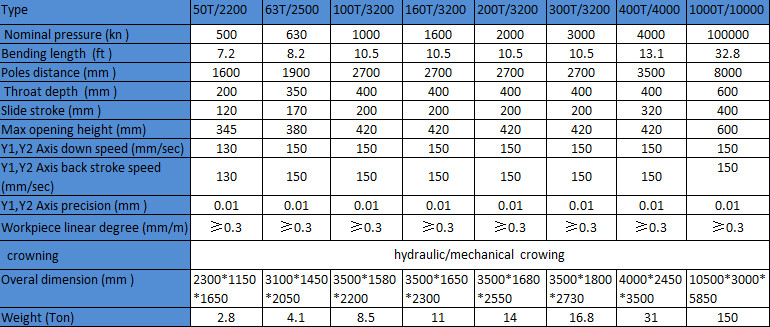 Optional