CNC series Electro hydraulic serve pump controller CNC press brake machine is of servo main motor which drives 2 way pump to control dual oil cylinder synchronously mechanical (hydraulic) crowning compensation device is equipped
The sheet metal press brake features energy saving by 50%, oil volume saving by 70% compared with traditional hydraulic press bake machine.
Multi backgauge axes are available steel weld machine frame gets annealing treatment with constant accuracy Netherlandish DELEM DA52&DA58
The Main Feature
● Overall welded and processed structure
● Dual cylinders synchronous controlled by electro-hydraulic servo vale, ensure the highest controlling precision, bending accuracy and repositioning accuracy are also reach the highest level
● Backgauge mechanism can control several backgauge axes
● Hydraulic compensation mechanism helps to prevent the deformed slider from affecting the quality of the workpiece, and the compensation mechanism is adjusted automatically by the CNC controller which is convenient and accuracy
● WF67K Series machines redesigned based on users preferences to become a unique press brake bending machine with its individual electronic and mechanical features.
● WF67K Series are among the highest rated machines which will help you increase your productivity and keep costs at minimum level with its user friendly CNC controller and low cost hydraulic maintenance.
● New WF67K is exactly what you need for your production where complicated, sensitive, single or multiple bends on high speed are paramount.
● High quality and repetitive bending is obtained by using synchronized cylinders and valves.
● Automatic utilization of all axes on startup.
● Rigid upper beam runs on 8-point bearings with bending precision of 0,01 mm.
● Well-known top and bottom tool brands are long lasting hardened and provide precise bending.
● The hydraulic press brake machines are designed using SOLID WORKS 3D programming and made with enhanced ST44-1 quality steel using the latest Technology.
DA52S CNC controller
The new generation DA-Touch controls offers an even higher grade of efficiency in programming, operation and control of today's bending press brake machine. Ease of use combined with state-of-the-art technology go hand in hand, improving productivity.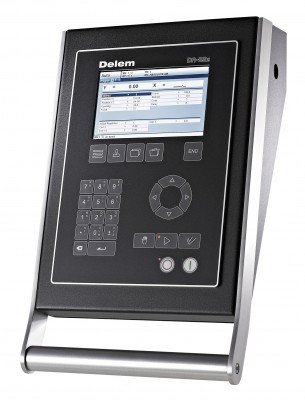 DA52S
● Numerical, one page programming
● 6.4"LCD TFT color display
● Crowning control
● Tool library
● Optional second backgauge axis
● USB, memory stick interfacing
● Advanced Y-axes control algorithms for closed loop as well as open loop valves
● Servo, frequency inverter and AC control for backgauge axes
The CNC back gauge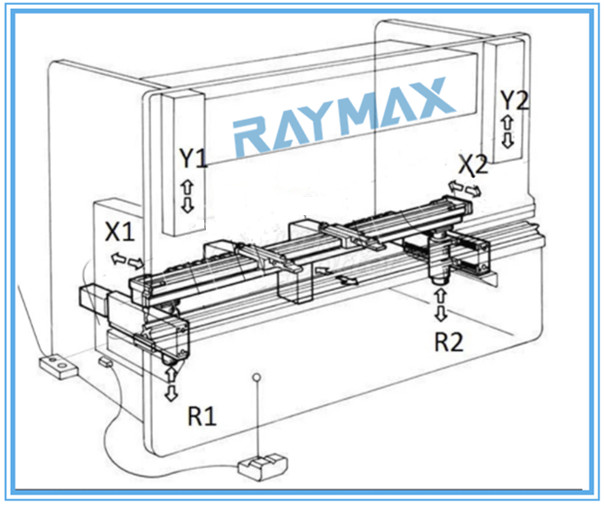 Energy-saving LED light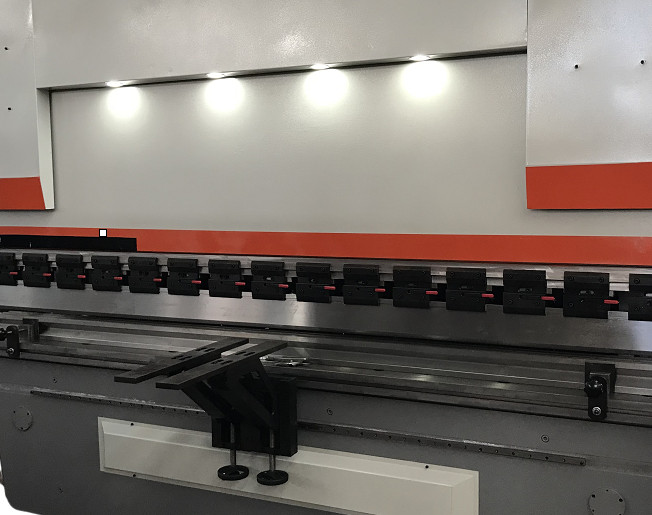 If the working environment is not bright, LED lights help the operator to operate the machine more easily and safely.
Double structure front arm
Double structure front arm is higher rigidity , longer, superior carrying capacity .
It can be adjusted up and down or move along the workbench from side to side.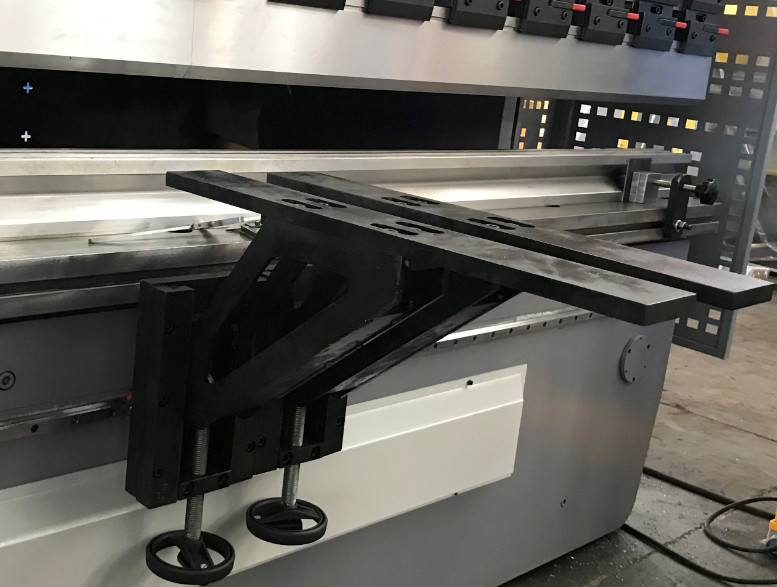 Double structure front arm with linear guide
1. The mold can be installed and removed to the left and right when pull the red handle.
2. The mold can be installed up and down when press the button
3. Scale more accurate
4. Save time and easy to change the die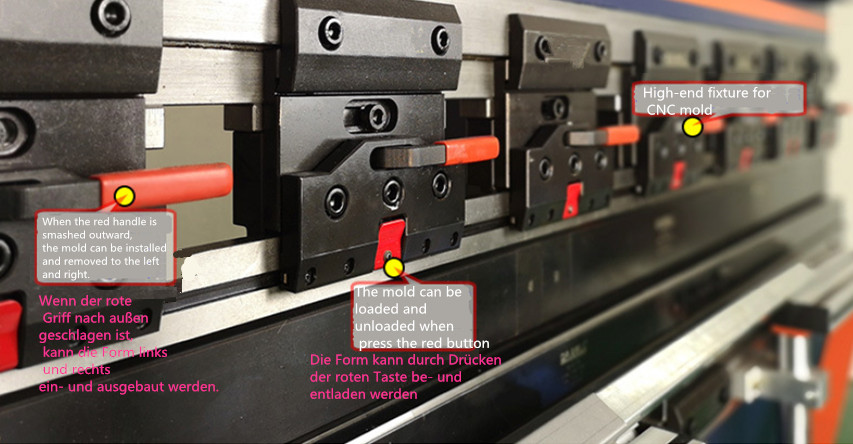 Hydraulic valve -Rexroth
Hydraulic valve -Rexroth from Germany
Hydraulic system with overload overflow safety protection
Hydraulic clear and intuitive display of oil level
The bending press machine can work continuously under rated load and can effectively alleviate problems cause by leakage of hydraulic fluid.
Hydraulic system decreased the pipe connections, oil leakage, and increased the stability and overall beautifies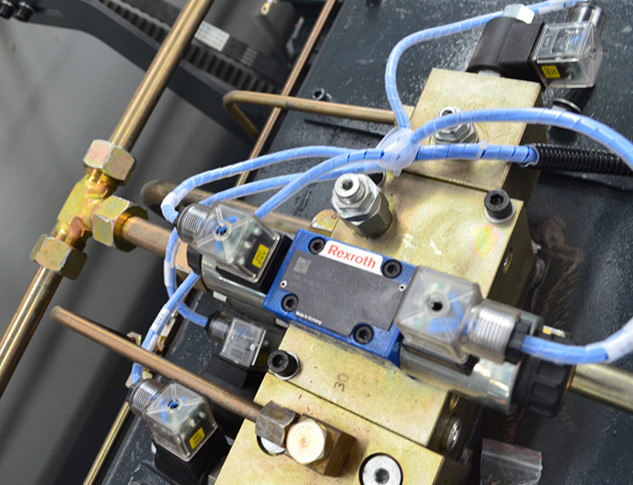 Sunny pump
Sunny pump from American performs well and provides great power for the whole hydraulic system.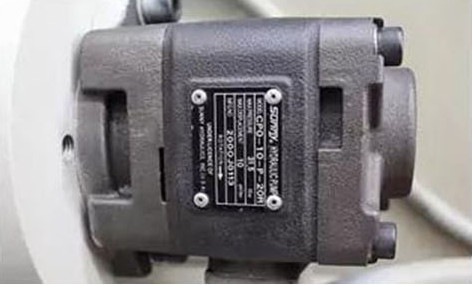 Germany EMB Tube
Germany EMB Tube and Connectors, reduce the odds against welding slag jamming the valves or affect oil flowing
Sealing Ring from NOK, Japan
Improve the service life of oil cylinder Guarantee long-term use without leakage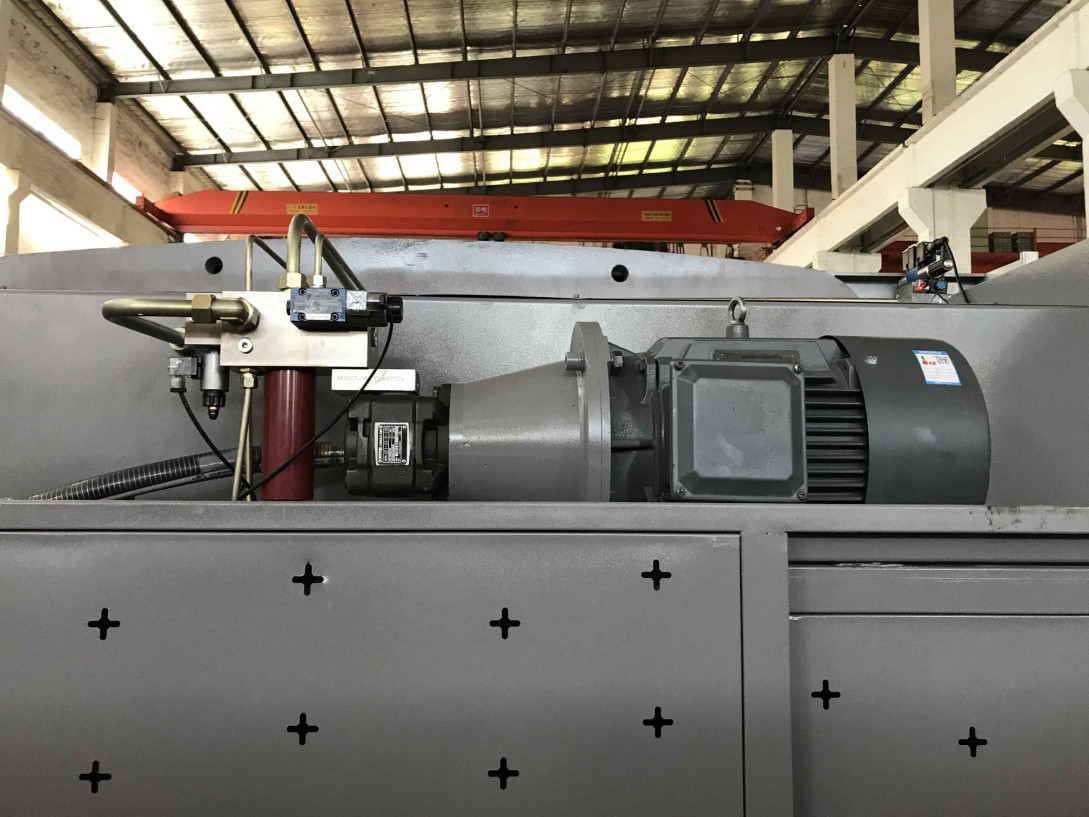 SIEMENS Main Motor
To guarantee press brake service life, and reduce the noise when working
High precision grating feet
High precision grating feet installed on the C-type rack, overcome the fuselage bending deformation folded in half the influence of accuracy.

Safety Fence
Protective guards on each side can protect the user during operation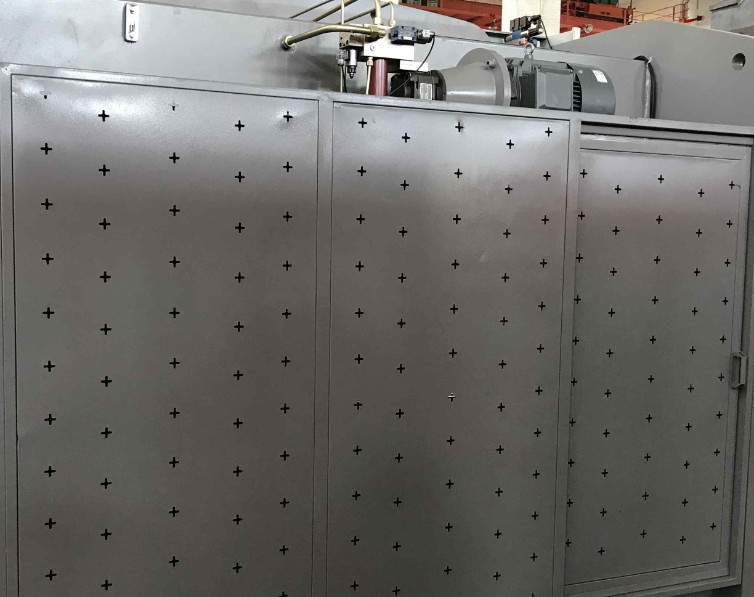 Press brake mold
All machines and molds (die/punch) can be customized according to requirements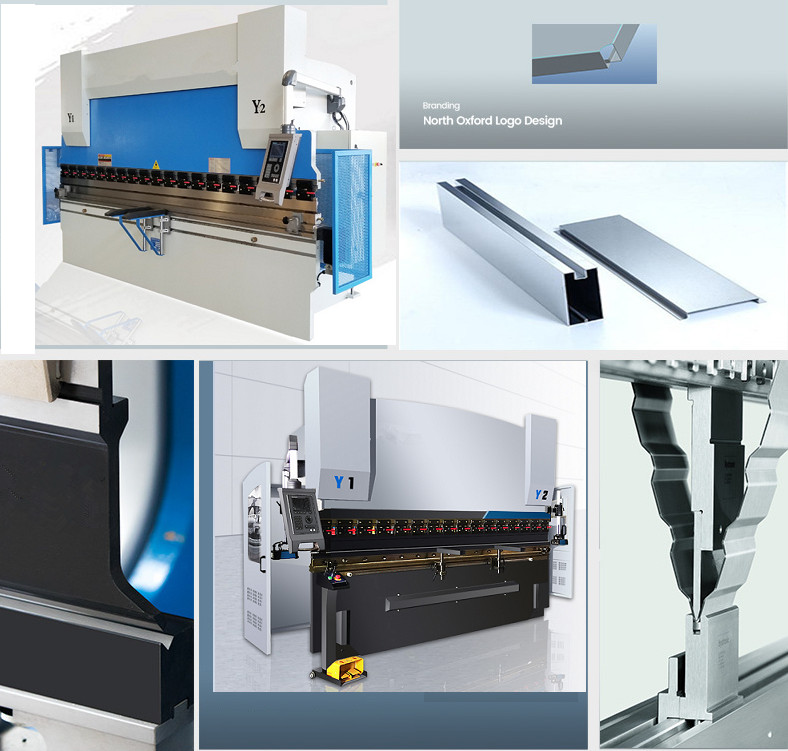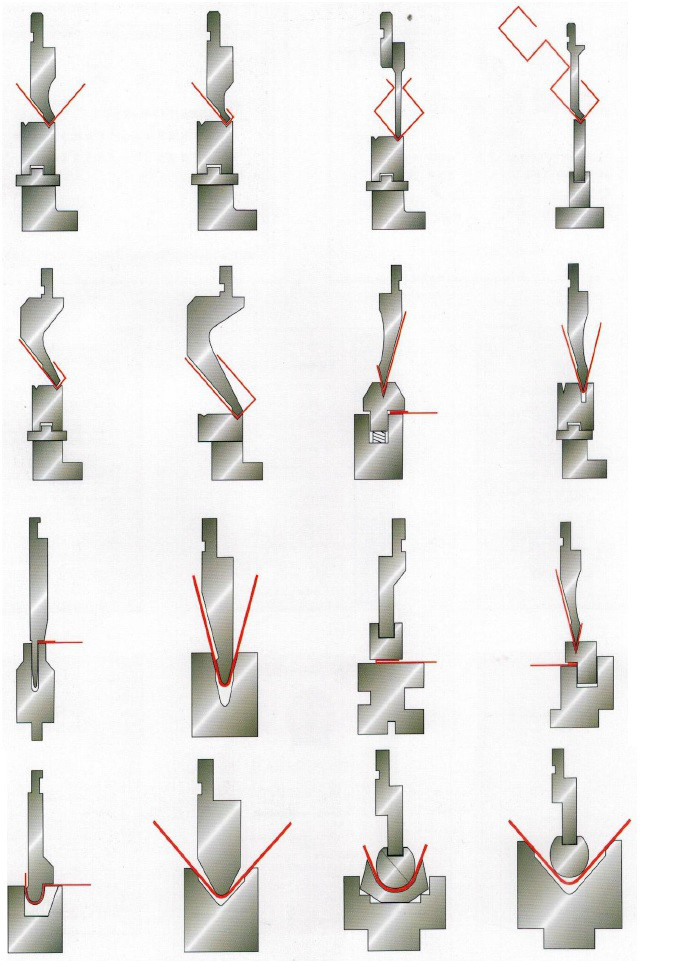 Technical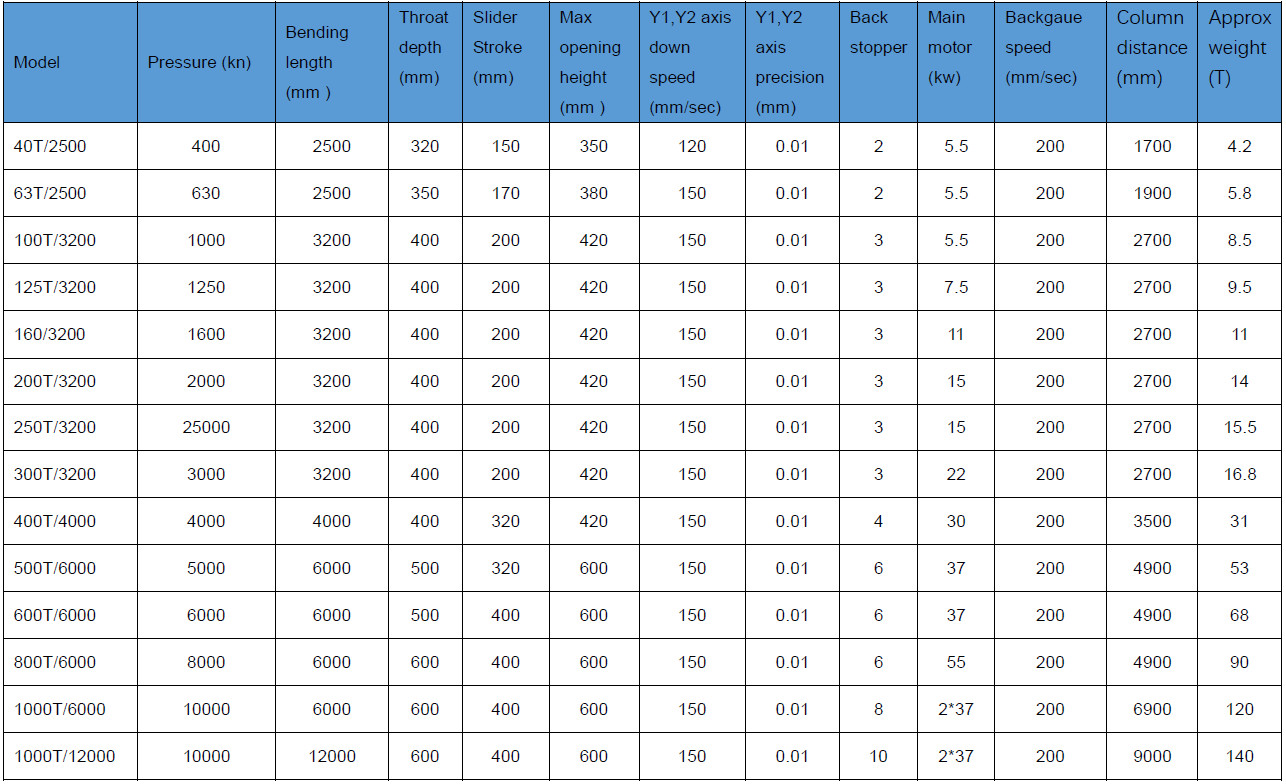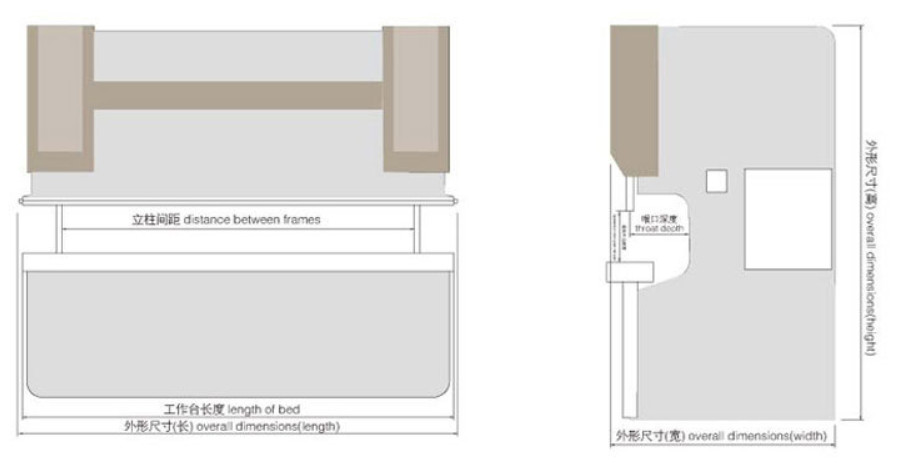 Optional